First of all, I like to mention that it is not my intention to write negative about Nepal, but my experiences there was to 90% negative and therefore you will read mostly about negative experiences.
I try to explain the situation I experienced there based on my diary, which I wrote daily in great detail.
My actual plan was to fly over to Nepal in October-November 2013 and make the Mt. Everest Basecamp Trail and afterwards the Annapurna Round Trek.
Some inner voice told me I should make this trekking schedule to an earlier date and just check out the situation in Nepal before I start the serious trekking adventure in the Himalayas.
As I could experience later, this was the right decision and so I booked my flight for the 19.March 2013.
I booked a special seat from where I can take pictures of the whole Himalaya Range on approaching Kathmandu, the capital of Nepal.
The first disappointment came when we descend to Kathmandu Airport, a thick soup of dark brown clouds blocked the view of the Himalaya's and it was impossible to see any mountains at all.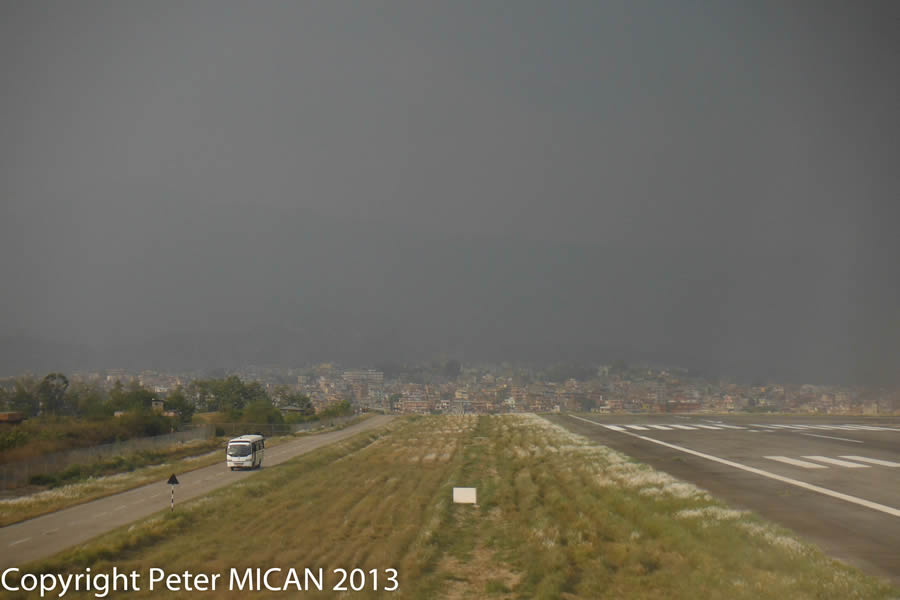 Even Kathmandu could not be seen from the air, a brown cloud of heavily polluted air covered everything.
I thought, OK, just bad luck and this was just a bad weather situation, I will still have 6 weeks to enjoy the mountains.
The next shocking experience was the thick air after landing in Kathmandu, almost impossible to breathe, the air-pollution was extreme and it has taken me quite a long time to adjust to these conditions.
Dust and exhaust fumes have reached a concentration, which was almost unbearable, every one of the new arrivals suffered terribly and we all was shocked by these conditions.
This was not definitely NOT what we all expected from the Himalayas.
Passport inspection and Visa on arrival has gone smooth and officers were friendly and helpful.
The 3 month visa cost U$ 100,- and has to be paid cash in U$.
That was done easily and now I have to find a ATM machine to cash out some money.
ATM no.1 accept only VISA Cards ….. ATM no.2 accept only VISA cards ….. ATM no.3 accept only VISA cards, this was the last one in the airport area.
No money means I cannot even take a taxi to the next bank or another ATM machine !!!
Luckily, I brought some Euro's in cash and could change them on the airport; this foresight saved my day, at least for now.
The exchange rate was 108 NRP (Nepal Rupees) for 1 Euro or 83 NRP for 1 U$, please remember that for later to get an idea about prices in Nepal.
With money in my pockets, I was ready to find a taxi which should bring me to my hotel, which was recommended to me by a friend.
There were hundreds of taxies waiting outside the airport building and many of the drivers approach you extremely unfriendly and try to push you in their taxis, I was sure they will rip me off straight away.
I went back into the airport building, booked a taxi from the "fix rate" taxi stand, and was very happy with this easy booking, paid NRP 700,-.
As it comes out later, for this distance the regular fee, using the meter, would be NRP 250,-
Thank you very much ………
So the driver, just two days in Kathmandu, confirmed that he know exactly the location of my hotel and we drove off.
Oh my god, the traffic was totally chaotic, no one follows traffic rules and the air pollution was almost unbearable.
After driving about half an hour my driver asked me for directions, what a joke.
He was totally lost and had no idea where he was heading to, I showed him a map of Kathmandu and this fellow could not read it at all, had no idea where we were and had no idea where to go.
So he called his friends and after about 10 phone calls he just hands me over his hand phone and I should try to call for instructions, that was, of course, a good idea ….. ????
Somehow we come near the location of my hotel and started asking every few meters for the hotel, but it was not there and most peoples had no idea where it was.
Finally, we reached the location, and instead of my cheap Hong Kong Guest House, there was a 5-star luxury hotel, with a room rate of U$ 150,-/night.
The staff there told us that the Hong Kong Guest House was on this location three years ago, but was demolished and came to this establishment .
So I asked my driver to find me another Guest House which I could afford.
This guy freaked totally out, first he did not know any Guest House, did not know where he was and complained that he has used already too much petrol and he cannot bring me anywhere.
After offering him NRP 300,- he was willing to search for another Guest House for me.
After about 15 minutes driving blindly around we got totally lost and luckily came in front of a Guest House.
It was already pitch dark and I did not care about anything anymore, all I needed is a bed now, nothing else.
The taxi driver started bargaining with the Guest House owner about his commission, because he brought me there, I did not care about that at all, was just too tired and fed up after driving more than an hour blindly around.
The room was a rat hole, nothing else, toilet not usable at all, no electric, dirt and rubbish everywhere.
Room rate NRP 1000,- / night, what a bargain ????
It was also bitter cold, at least for me, so I got out ALL my clothing, sleeping bag and went to bed.
I just tried touching nothing in this filthy place.
Next morning, freezing the whole night, I packed and walked to the place, where I rented my motorbike for the next 6 weeks, at www.bikemandu.com.
I highly recommend A. Gurung, this guy is absolutely professional, correct and he gives you a good price for long term rents, bikes are in excellent conditions and serviced before each trip, which is critical.
He offers also the famous "Royal Enfield's", which was too costly for me for long term.
So I rented a 220 cc Avenger bike, which cost me NRP 700,- / day.
Great bike, very economical, uses about 2 ½ to 3 liters petrol for 100 km.
After a bit of chitchat with Gurung I was ready for my first trip.
Gorkha, about 140 km ride from Kathmandu:
The first 30 kilometers was an absolute nightmare, chaotic traffic, pollution unbearable, stress total.
After that first 30 km everything was quite smooth, traffic ceased to almost none existance and I was king of the road.
The only vehicles on the road are buses and Trucks, no private cars at all.
The side road to Gorkha was very beautiful, no traffic at all and I really enjoyed that ride.
Landscape is fantastic, pollution extreme, and rubbish everywhere.
After reaching Gorkha, 4 ½ hours for 140 km, I was exhausted and went straight to the Guruna Hotel in the old town plaza, which was recommended by Lonely Planet.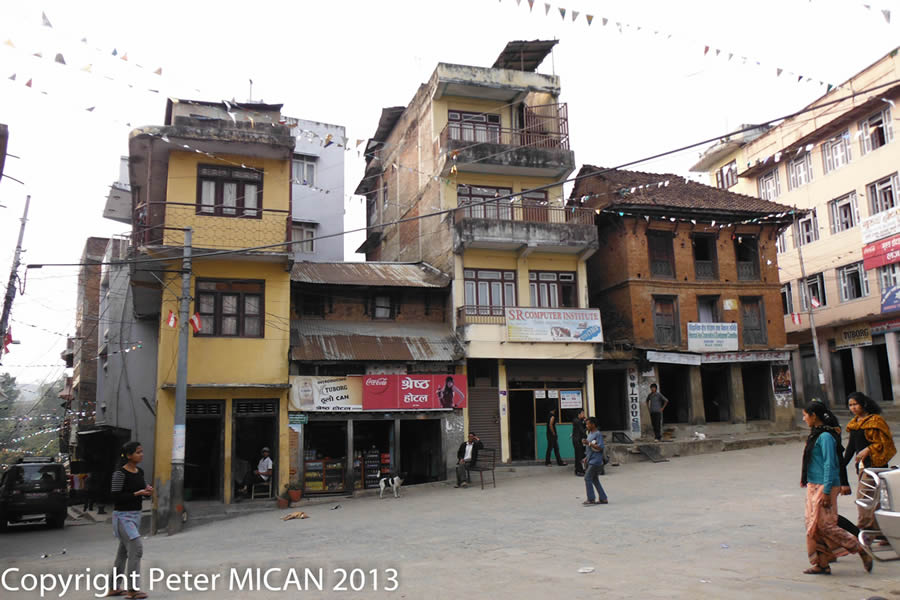 A rat hole again, toilet very dirty, stink and without rubber boots unusable.
Water cold and only dripping from the tap ……. Room rate NRP 300.-
I worried about parking my bike on the street, then came police man, who patrolling the museum in front of the plaza, offered me to park there and he will have a look at the bike, they have a 24h watch in front of the museum. Thank you ……
After a short walk around the town I tried to find a shop which can top up my sim-card for my hand phone.
Here we go: The guy in the shop offered me an upload for NRP 150,- and I paid for two , so all in all I should get NRP 300,- of phone time.
He put this amount into my phone, I paid and went off.
After a few minutes, I sensed something was wrong and checked my sim card.
BINGO, I had only NRP 100,- on my card, which I never used so far.
So I went back and asked if there was a mistake with my uploading and immediately the guy started screaming at me as I questioned his honesty, there was no way to get anything back from him and he accused me of wanting to cheat him, which many peoples crowding up around me and pointing at me, not a very pleasant feeling, believe me.
This was my first encounter with a Nepali businessman, and many experiences like that will follow.
At about two o clock in the morning, a loud screaming went through the guest house and everybody woke up.
A Spanish Lady, on her second day in Nepal, was robbed in her room, all her money, passport, and three credit cards were gone.
Police showed up shortly and refused to make written report at all, their comment was as follow:
In Nepal, nobody gets robbed and it was the fault of the women herself, because she stored all her items in her handbag, which was stolen …….
Next morning the police officers returned with the empty handbag as though nothing has happened.
No report means no crime has happened, everything was fine for them.
The poor women was freaking out and she did not know what to do, no passport and not a cent in the pocket.
Police was no help at all, so we travelers collected some money, just to help her to pay for the bus ticket to Kathmandu to visit her Embassy.
Unbelievable how the police reacted, acted and pushed everything to this women.
After this exiting and almost sleepless night, I was totally perplexed and could not believe what had happened, I had enough from this friendly place.
Early next morning, 6 AM, I was ready for my ride to Bandipure, again about 48 km.
As I got to my bike, it was lying on the side, petrol was running out of the tank …….
After asking the police men what had happened, they told me that some children came last evening and had played on the bike and it just fell over …… thank you for letting it lying like that.
I put the bike up, without any help from the surrounding 5 police men, and went off.
What a good start, a world break down for me, I expected friendly helpful peoples and pristine nature and mountains, nothing of that was there ….. NO mountains to see at all !!!
But I thought, just bad luck to meet the wrong peoples, booked the wrong hotel for the first day and just bad weather, this can happen everywhere.
Finally, I had an enjoyable ride until I got totally lost, I had taken a wrong turn from the start.
This brought me 140 km deep into the country, which had a beautiful landscape, lonely road, and after 5 hours, I reached Bandipur.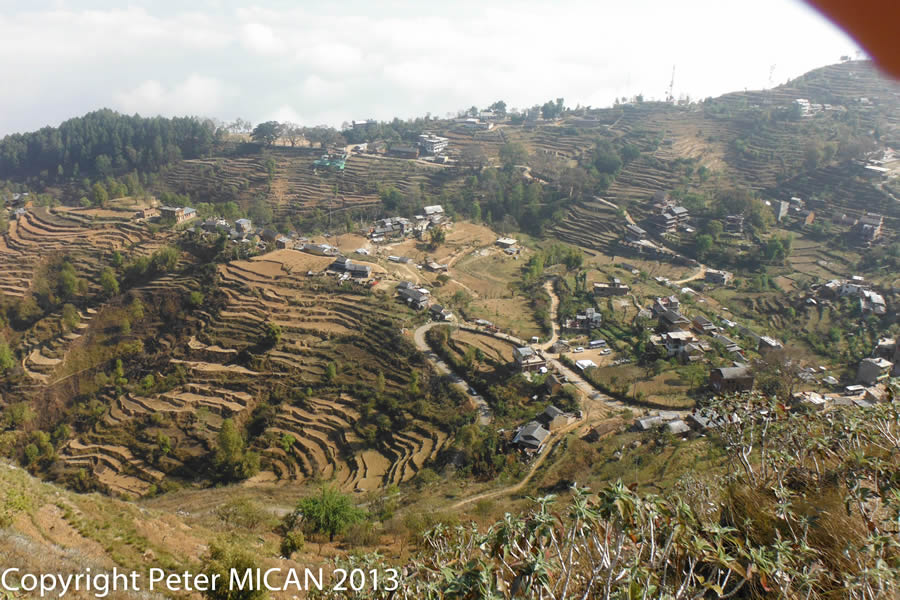 A very old, small and newly renovated town, friendly peoples, beautiful setting in the mountains.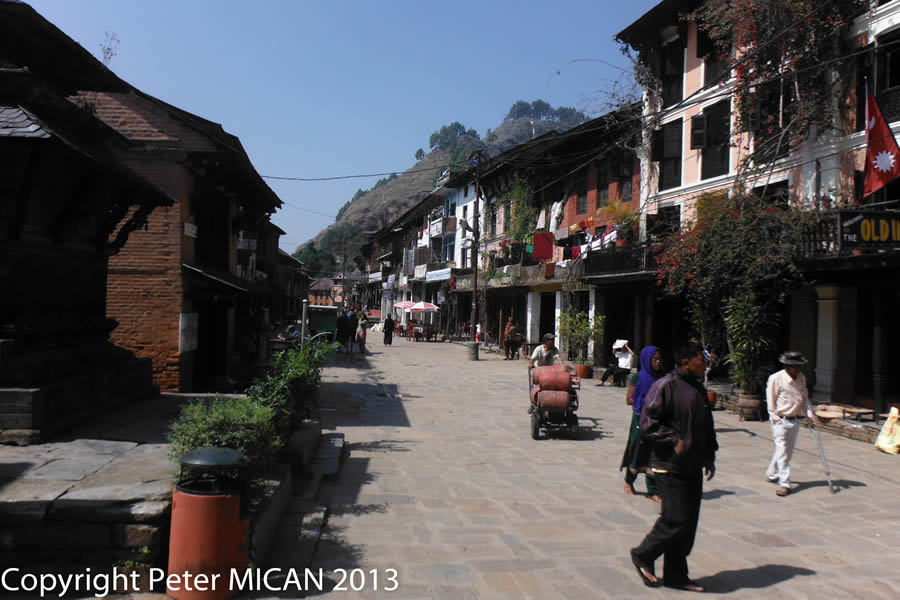 From here, I should see the Himalayas, but this was not the case, NO mountain view again ….
I went to the Milan Guest House, NRP 600,-/night, which was straight on the end of the road, in front of the bus station.
I got a room on the rooftop, which was clean, had great view and warm water …. What a treat after a long ride.
Next morning I went up to the hill, a very steep 20 minutes hike, to the temple to see the spectacular sun rise.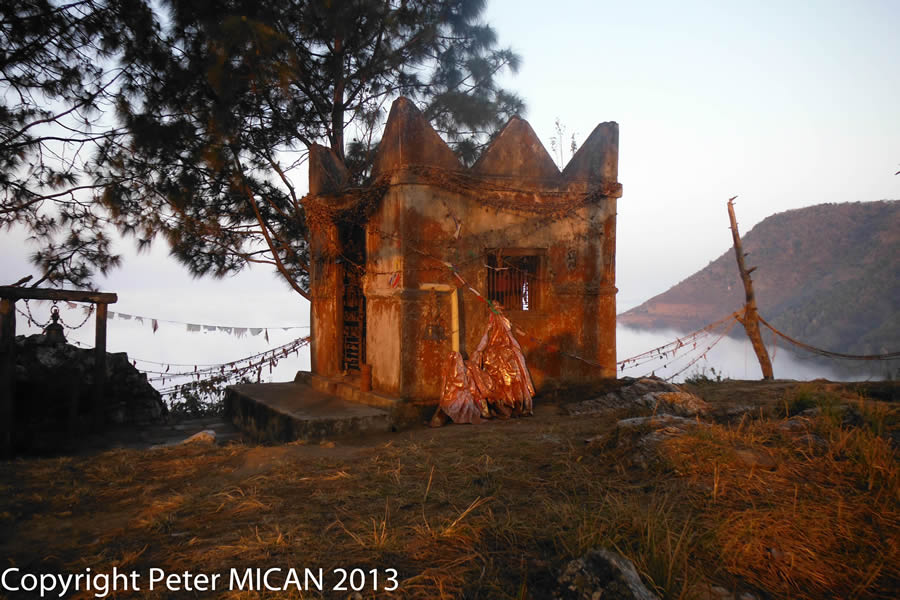 This was really a nice experience, because of the enormous pollution in the air, the color in the sky was great when the sun rose up.
From the famous temple I was disappointed, though the view was good, again no view of the Himalayas …… where they are ???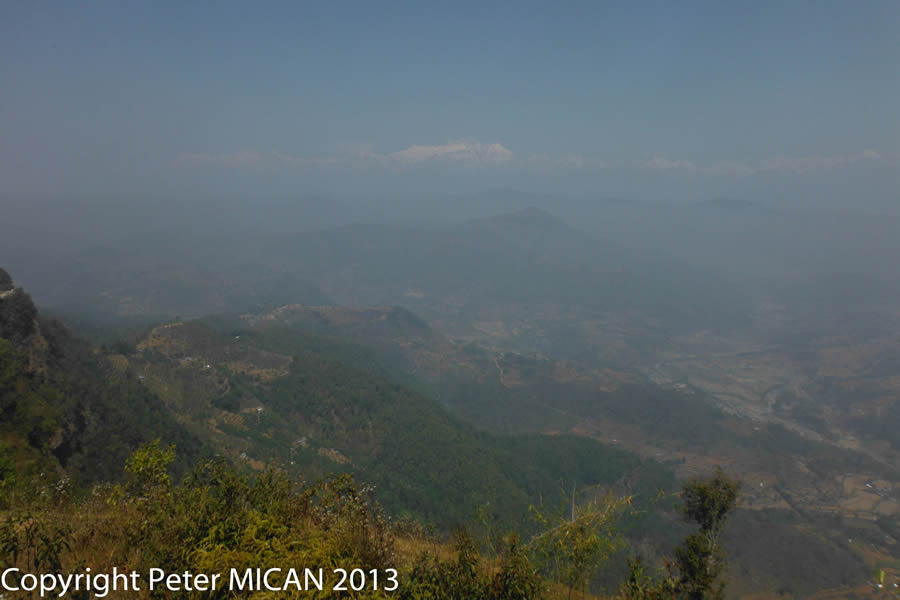 After two nights, I checked out of the guesthouse and had a nice surprise:
The bill was NRP 3000,- ?????
As far as I can calculate, two nights of NRP 600,- each, makes NRP 1200,- to me, but he charged me for 2 dal bath and 5 lemon teas for NRP 1.800,-, which is a total rip off.
A dal bath (standard food in Nepal) you can get at an average cost for about NRP 100,- to 120,- and a tea cost between NRP 20,- to 30,-
What a nice encounter again, so this was a total rip off again, what a nice country is that ???
So I paid and went off to Besi Sahar, this is the entry point for the "Round Annapurna Trek", which I liked to see.
I totally underestimated the distance and run out of petrol, was lucky and could find a shop which sold me petrol in plastic bottles for NRP 135,- / liter, which was very fair, the actual price on the petrol station is NRP 125,- / liter.
In Besi Sahar was nothing much to see, the mountains hidden behind the usual brown curtain of polluted air, so I went straight for Pokhara, which made this a 220 km ride.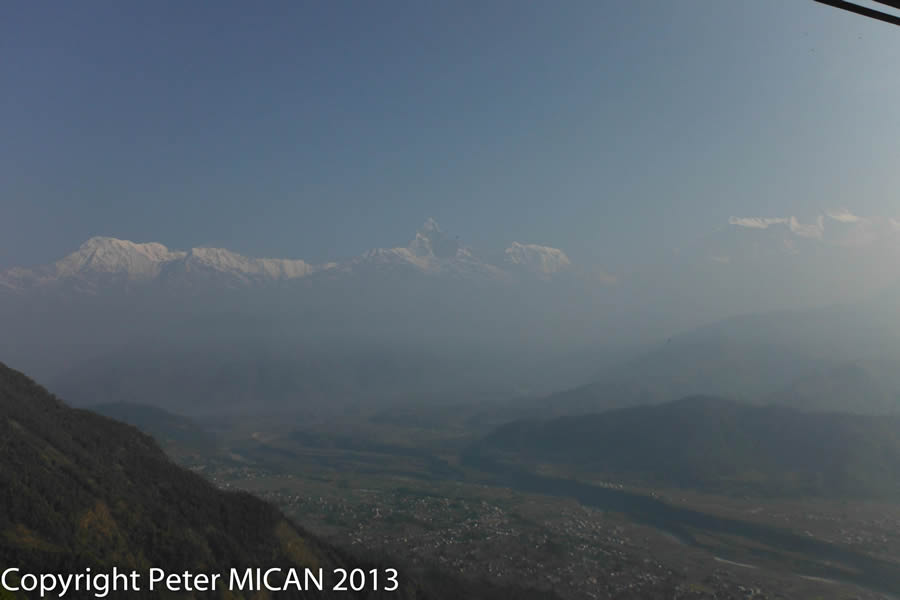 Weather was excellent, but NO mountains to see ……… this was very frustrating for me, because the reason to come to Nepal was to see the famous Himalaya Mountains, but this should not happen to be.
2 PM I arrived in Pokhara, crazy traffic again, and after approaching the main junction into the town the whole road was blocked, in front of me, on my two sides and finally my back was closed off.
A demonstration has just started, and lucky me, I was in the middle of all of that nonsense.
This should last for 1 hour and hundreds of police officers with huge batons trying to keep the situation under control.
I was shocked at first, but luckily there was no escalations, except a few shouting's and screaming from the demonstrating peoples and also from the police officers.
After clearing up, I could continue to go to my Guest House "Green Peace Lodge", on the far end of the lake side.
This was a palace compared to the last Guest Houses, spot clean, hot water, new bed sheets and friendly peoples, a different world was this.
Fall half dead into the bed and doze off.
Next morning I went up to Sarangkot, one of the best mountain views in Nepal.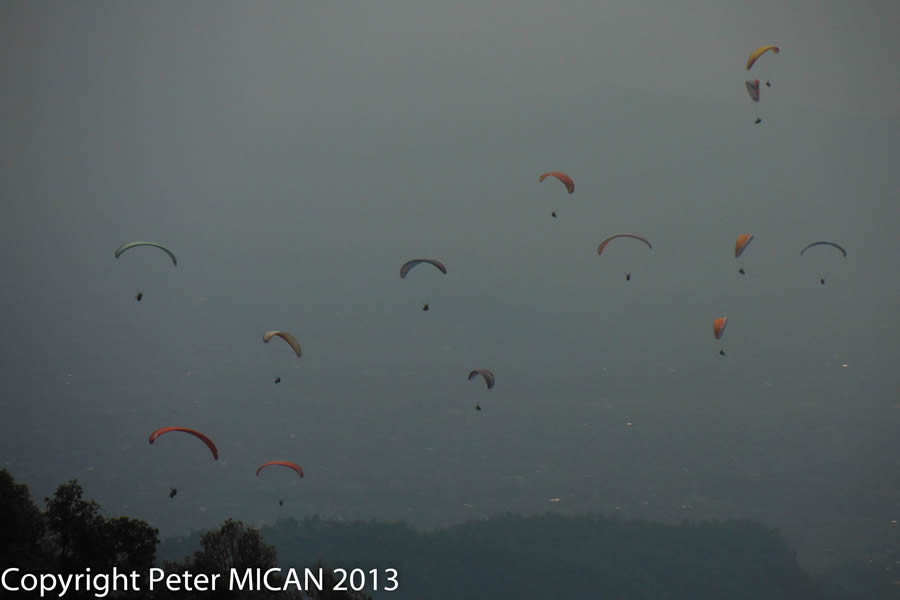 Just before reaching the top, a guy jumped on the street in front of me and forced me to park my bike in front of his small coffee shop, because it is illegal to ride a bike up here and also it is very dangerous to follow the road to the top.
I also had to pay a big fine when reaching the top, so this angel saved me a lot of troubles, so it seems at first.
Of course this service cost NRP 20,-.
After reaching the top on foot, none of his stories was true at all, there was free parking, no fines whatsoever and a perfect road up to the top.
What a nice encounter again.
It is not the money I lose that makes me angry; it is just the feeling of being rip off from every person I encountered and being the target of getting ripped off all the time.
What I can say about the famous view of the Himalayas ?
No view at all, absolutely nothing to see, and this just a few kilometers in front of the 8000, high Annapurna ????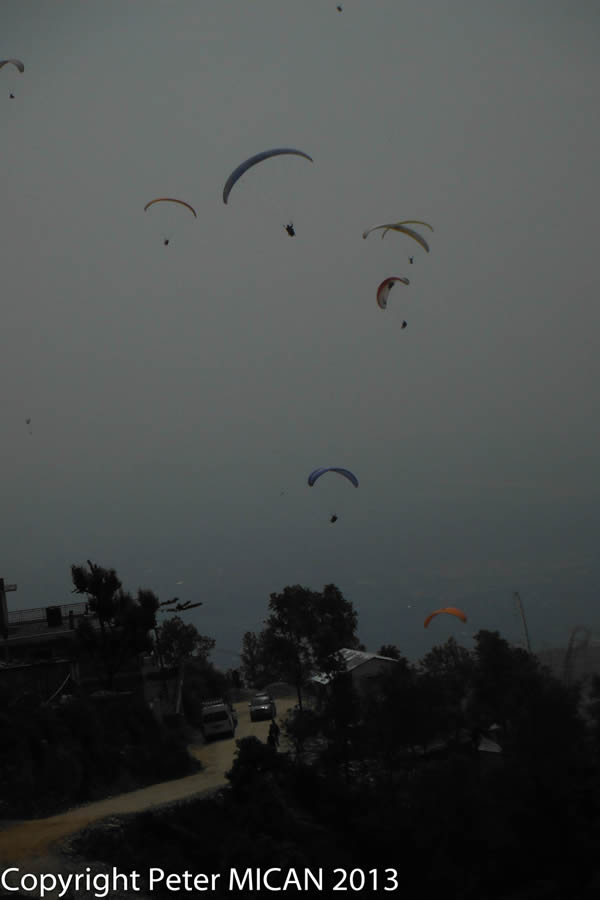 If you know where the mountains are, you could see a slight silhoutte of them, nothing else.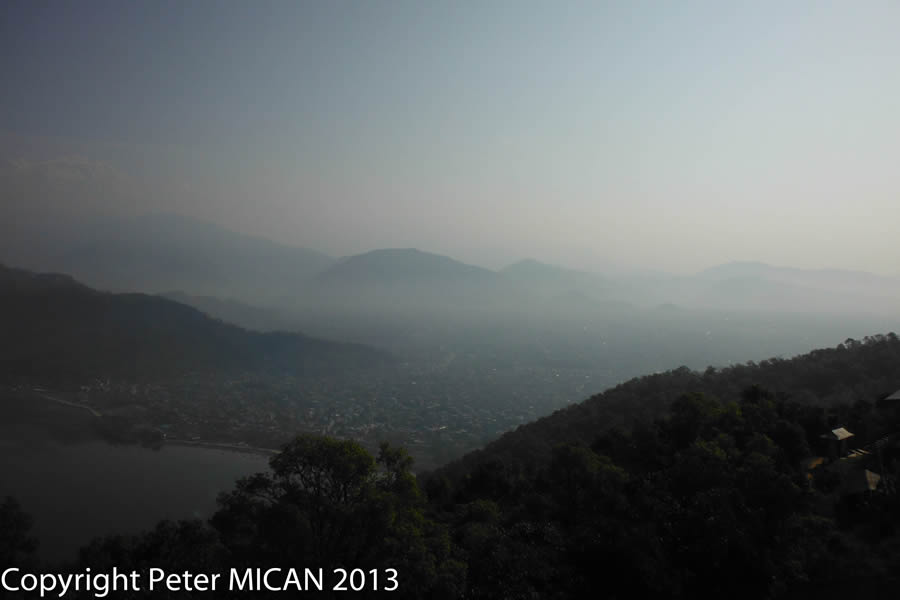 There was also at least 15 bus loads of screaming Japanese and Korean tourists up there which make the whole scenario not very pleasant and after 1 hour of seeing nothing I went back.
More interesting was the starting place for the famous paragliding, there was hundreds of tandem Para gliders in the air at the same time.
Daily accidents are the norm, but they are all covered up to keep this good business running.
The pilots are mostly Russians, Polish and other Vodka filled up Individuals, which offer a 10 minute start-landing flight for Euro 65,- ….. this is a joke and again a total rip off.
Back to the Lake Side in Pokhara I went to a Super Market to stock up a bit on water and a few snacks.
This friendly Indian shop owner was a total crux.
I had stuff in my basket that was worth about NRP 300,- !!!!
When I came to the counter, he started to talk with me in an intensity that I have not checked anything at all, so he put NRP 620,- on my bill, instead of the correct 300,-, I paid with a 1000 note and when I checked outside the store, I got back my change of only NRP 200,- from my 300,- purchase , can't believe it at all?????
So this guy had intended to cheat me right from the beginning.
After returning to him the same scenario as in Gorkha's Phone Card cheat, shouting and screaming at me …….. I went out to avoid a big crowd, which was forming fast around me and learned one more unpleasant lesson.
So far every encounter with Nepali peoples was a total rip off and cheating, not a good start at all and it continued like that.
The "World Peace Pagoda" on the other side of the lake in Pokhara is a really nice sight and I enjoyed a whole day up there and a whole day without being cheated, I make progress …..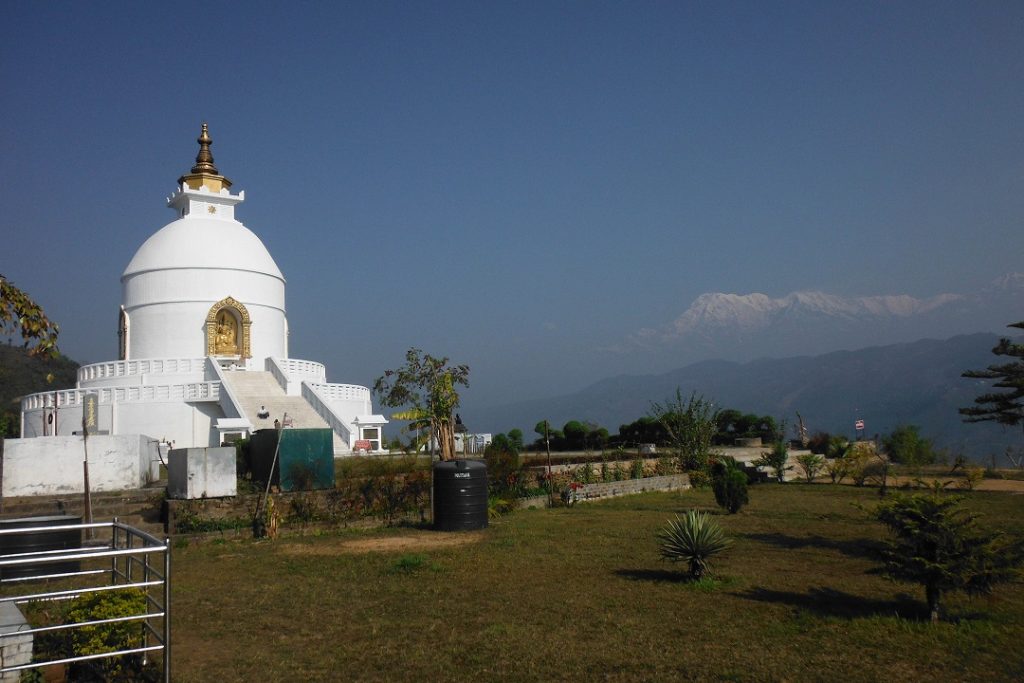 Next day I went to the southern mountains but after a few hours of riding in extreme off road conditions I returned, the torture on my bones and on the bike was too much.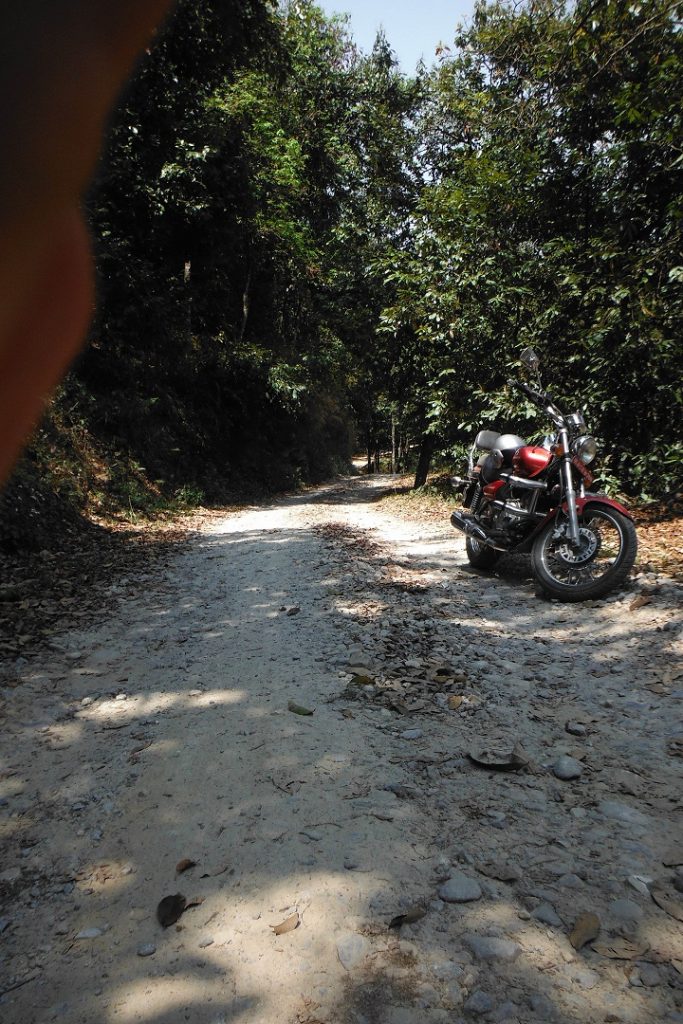 On the 26. Of March was the "Happy Holy" festival in Pokhara.
A funny festival where the whole town went mad, everyone is armed with colored powders and water and they poured this stuff to everyone they saw.
I stayed up till 1PM in my room to avoid this onslaught, but after I went out in just a few minutes I got my load of colors, luckily it was not so bad.
The main tourists in Pokhara are ex-hippies and it seems that the whole Goa-Scene has moved over here.
Only junkies, Alcoholics, Drug dealers and Criminals, an absolute nightmare and a shame, those creatures represent the western world.
No wonder that Nepali's had no respect for us and rip us off all the time.
The rest of the tourists are rich Japanese and Korean origin, also not exactly the cream de la cream of humanity.
Luckily, there are the Trekkers, they are generally nice peoples and nature lovers, the only peoples you can talk normally here.
Nepali's here are all business oriented and cheat you whenever they can.
The organized tours charged 10 times the prices asked from the local business.
I could go on here and write a whole book on this topic, but this is a waste of time …..
Weather is perfect and it is getting warmer every day, but so far I could not see a single Himalaya Mountain ?????
Next day I went to the two small southern lakes, which are located in a beautiful landscape.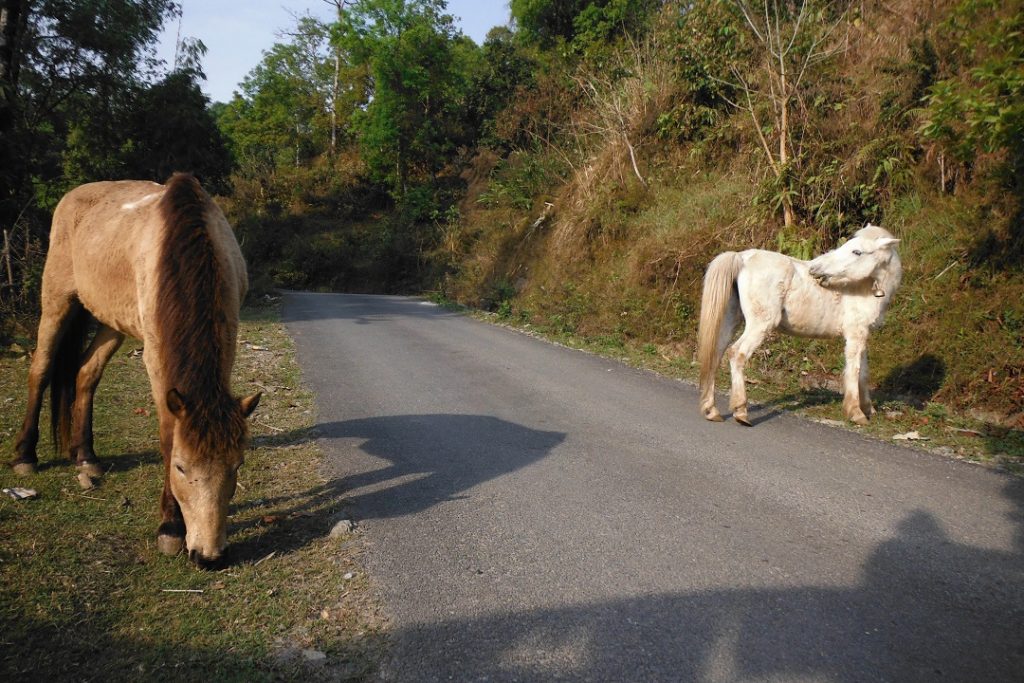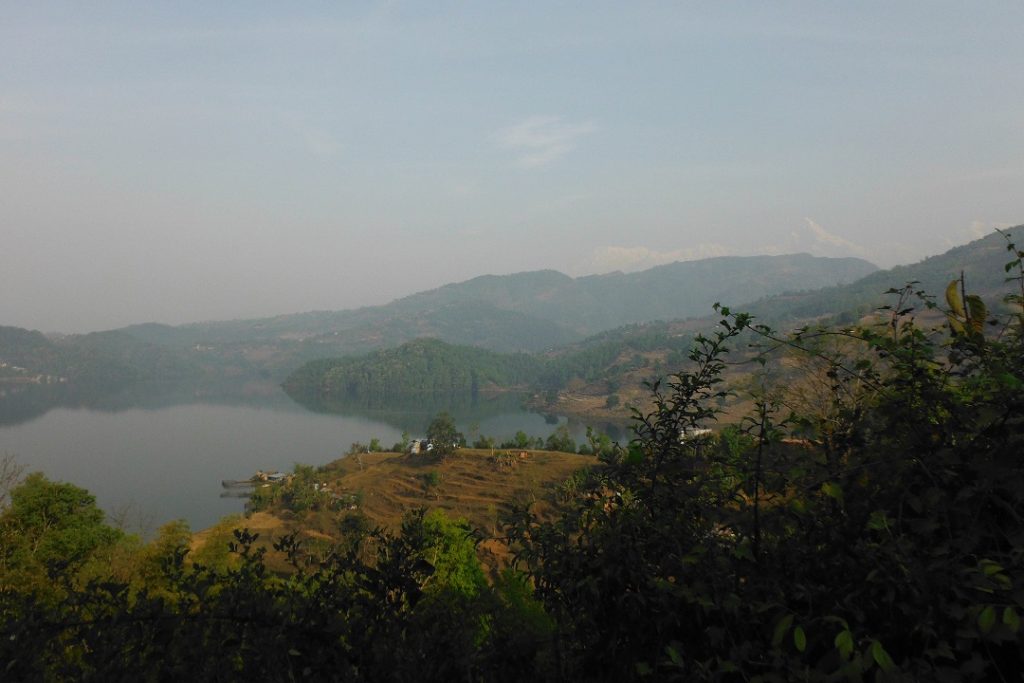 After a short rest, I headed for Beni, this is the closest town to the Annapurna which can be reached with a normal vehicle.
The scenery on this trip was spectacular, but the road was very dangerous and about 15 km before Beni the road got so bad that I had to give up, this conditions I could not ride a single kilometer anymore.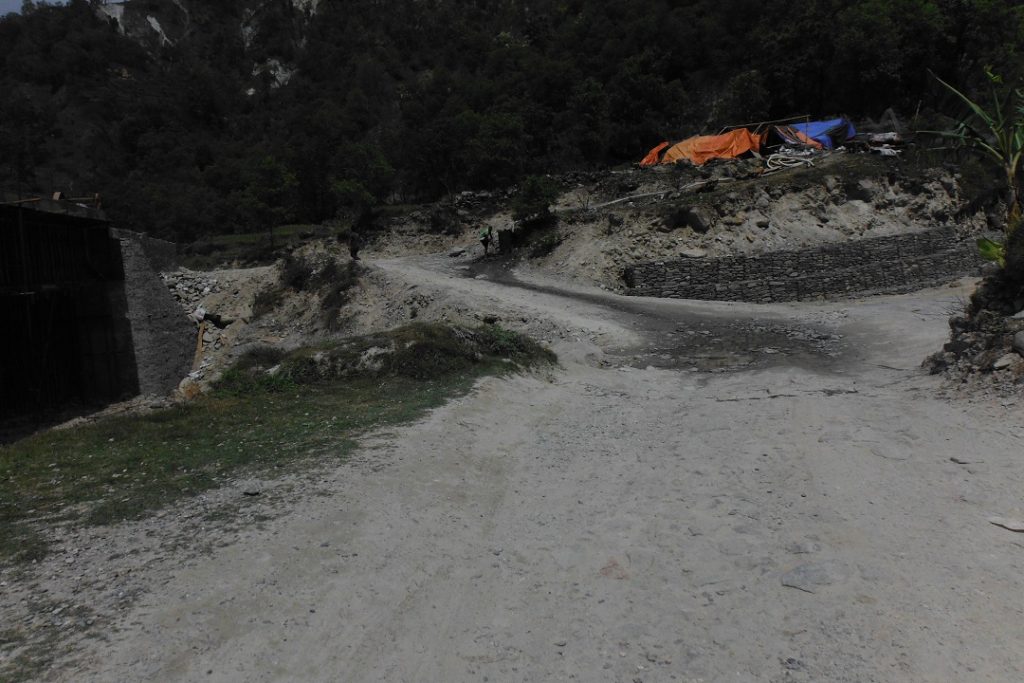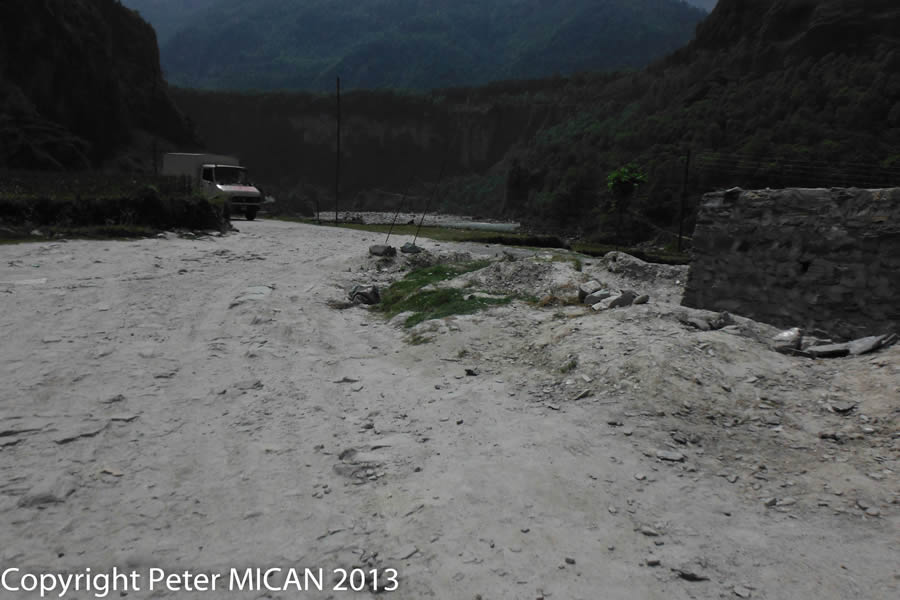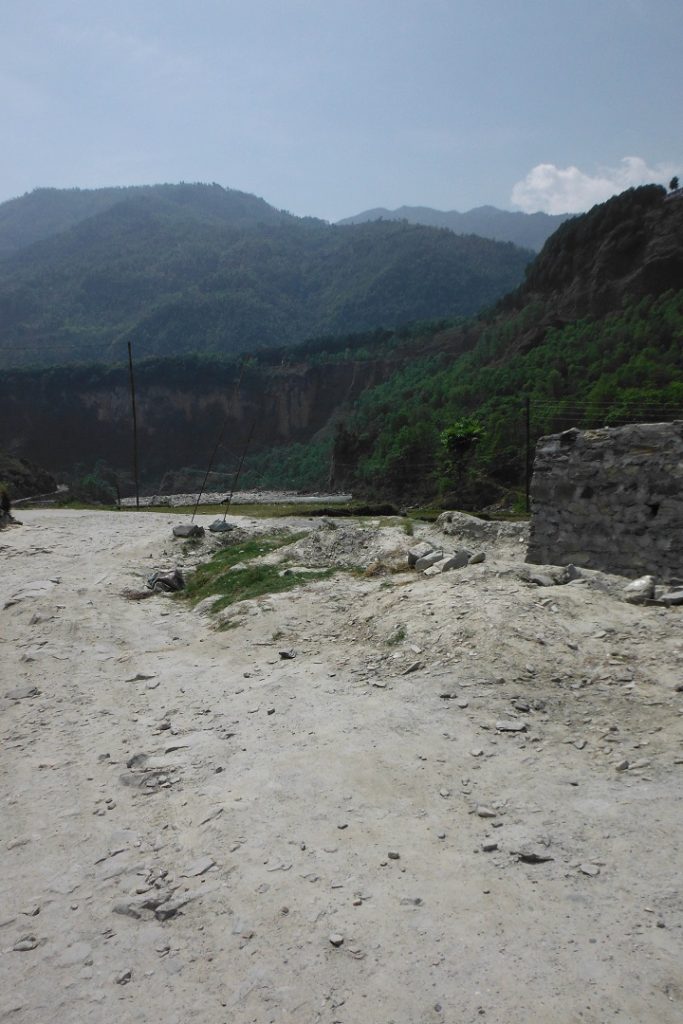 At this point and after passing two "DRY" petrol stations, I run out of petrol, lucky me …
Reaching a third petrol station with the last drops of petrol in my tank, the person just refused to sell me any petrol, because of shortage of petrol.
Instead, he sends me to his friend, who could sell me petrol in bottles, for a price of course.
This gangster charged me NRP 500,- / liter !!! (Remember normal petrol price is NRP 125,-)
I had no choice and bought 2 liters, because my tank was bone dry.
Immediately after filling up my tank with 2 liters of this precious and super expensive petrol I passed the petrol station again and saw clearly that he was filling up tanks for other local motor bikes, no shortage at all …. Again, a nice lesson learnt.
The problem is, you as a foreigner have absolutely no chance to argue with this guys, if you start arguing, they cannot understand a word of English anymore and leave you alone with your problem.
So what can you do ????
Pay the ridiculous prices and shut up, that is the way everything is set up in this country.
After a few kilometers on the road, I used a wrong turn and got lost once more.
But this time I was lucky too, this wrong road brought me to a gorgeous landscape, small villages with friendly peoples and a beautiful mountain range which I followed for one hour, totally forgetting that my tank holds only 2 liters of petrol.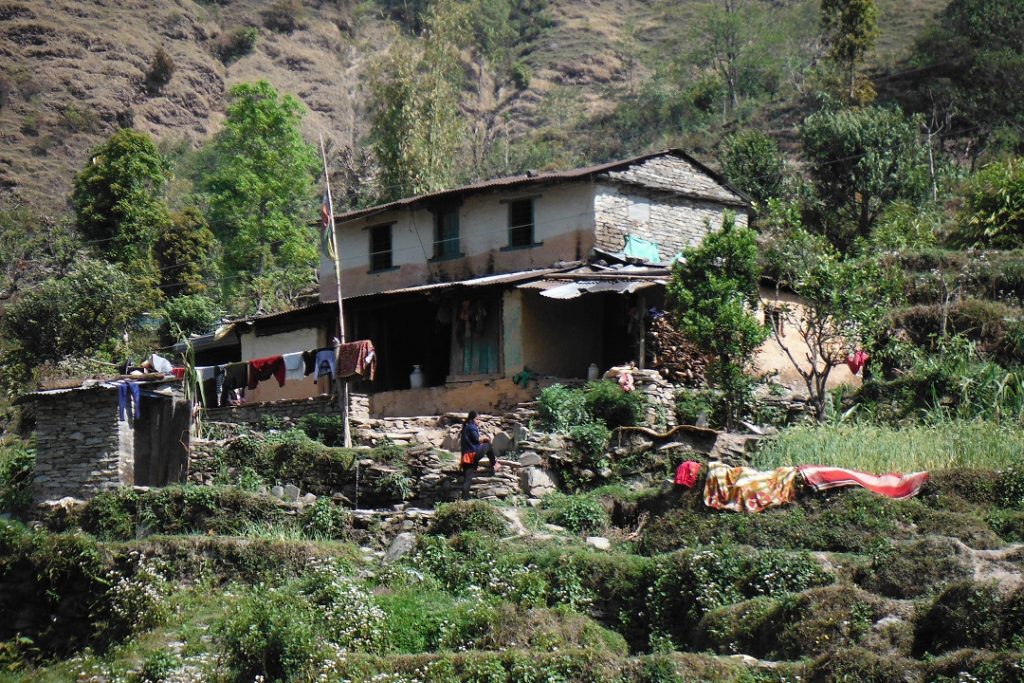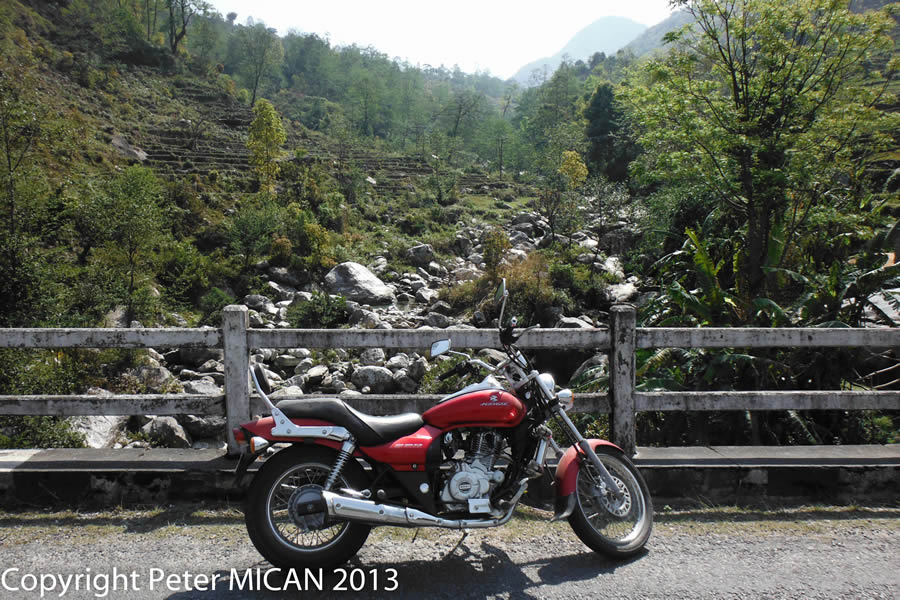 Just after remember my petrol situation my bike started making noise and I ran out of petrol . Amazingly stopping right in front of a petrol station, in the middle of nowhere and at the end of the road, can you believe that.
The petrol station guy was extremely friendly and filled up my tank to the rim 🙂
Pricing: NRP 125,- / liter what a surprise ………
After a total of 6 hours riding I reached my guesthouse and fall half dead into my bed.
Next day was a lazy day, just to relax a bit and recovered from the tortures on the road from the last days.
Now it was time to check some of the shops in Pokhara to see what is available there.
What a joke, ridiculous prices, lousy quality and all the branded gear was cheap copies, would not last a few days, rip off again everywhere.
The shopkeepers are very friendly when you approach, but when you do not buy straight away, they get very unfriendly and fierce.
Was a very unpleasant experience again, but still bought a woolen hat and woolen socks, because I still was freezing every night in my sleeping bag and blanket in my bed.
Pokhara was, in general, a good experience and I met many trekkers there from whom I learned a lot for my future trekking in Nepal.
I was told of ridiculous prices in the Tea Houses on the trekking routes, dal bath 800,-(normal 100,-), cup of tea 200,-(normal 20), chapatti 500,- (normal 20,-), no hot water and when it was provided for a ridiculous price.
Trekking permits are doubled since last year, if you trek independently you have to pay double again.
Many guides and all porters speak no English at all, cannot read maps, have no clue what is GPS, all they do is asking for brand new hiking gear and make you troubles.
There are some good ones of course, but if you do not know anybody whom you can trust and could recommend you a guide or porter, you are sure to be ripped off.
This was all shocking news for me and I was lucky to have chosen to make this trip to sort all this out before going on a real trekking tour.
So far I have not met a single person who was happy with his travel experiences here !!!!
I also developed serious health problems, like all other tourists here.
My throat is inflamed from the acid air pollution, my lungs have great problems to absorb enough oxygen, flam starts forming more and more, and it did not look good at all.
At first, I thought this comes from the cold climate but everyone I met had the same problem, so it was clear, pollution is the problem, not the climate.
Still no Himalayans to see and it gets worse every day, just a vage silhouette on the horizon ….
Luckily the weather gets warmer every day now, so sleeping was not a freezing sensation anymore.
After a few lazy days in Pokhara the sky was washed out from a heavy rain shower.
I rushed up to the "World Peace Pagoda" and finally saw my first Mountains …..
Not very clear, but at least I saw them.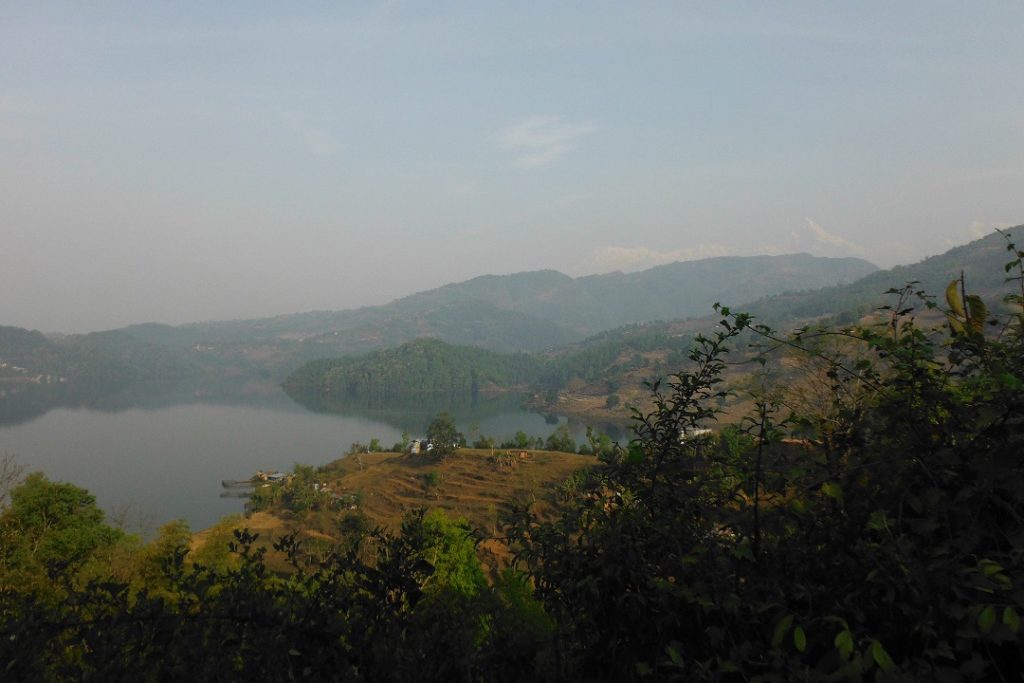 After half an hour the sky closed again and then I made the decision to move south, Lumbini, the birthplace of the Buddha was my next destination.
I was very excited and full of expectations about this holy place.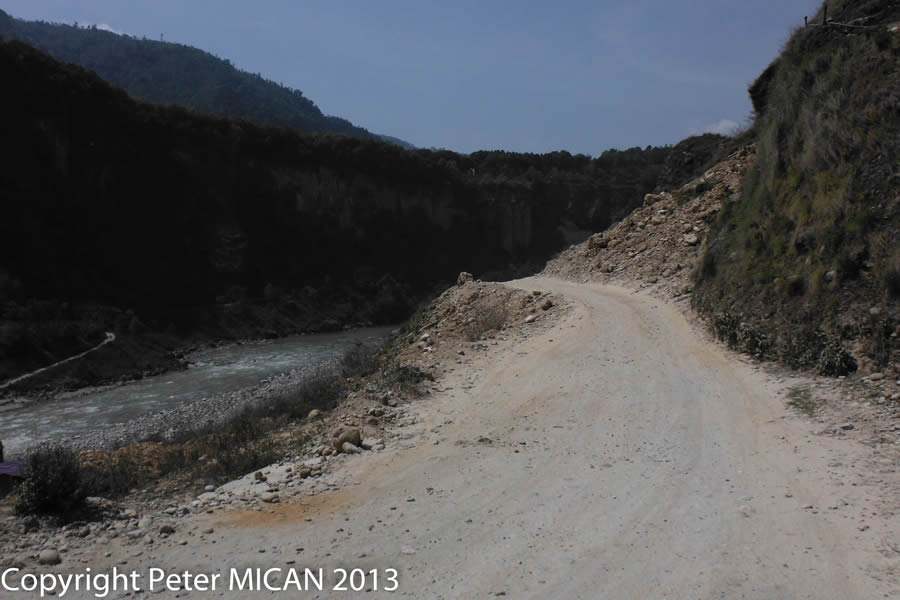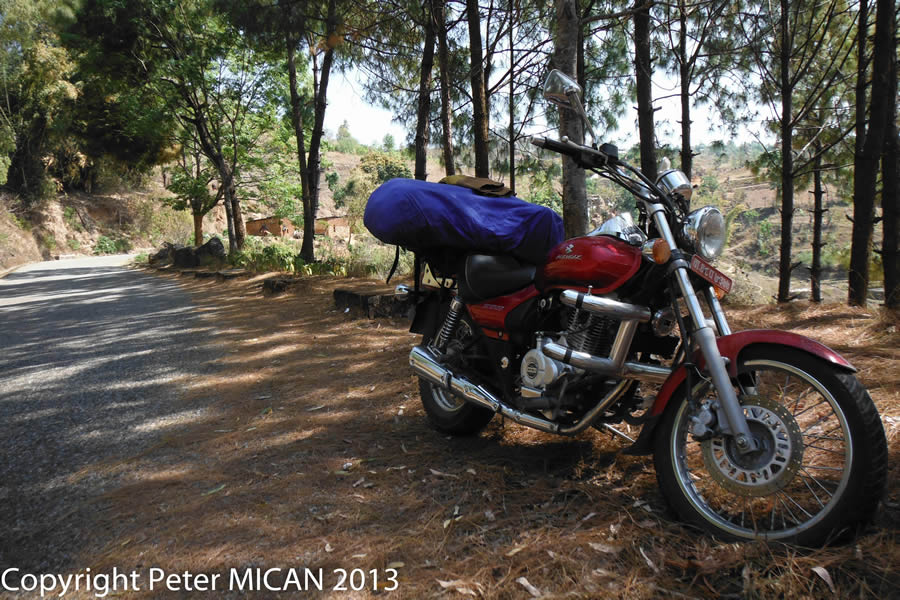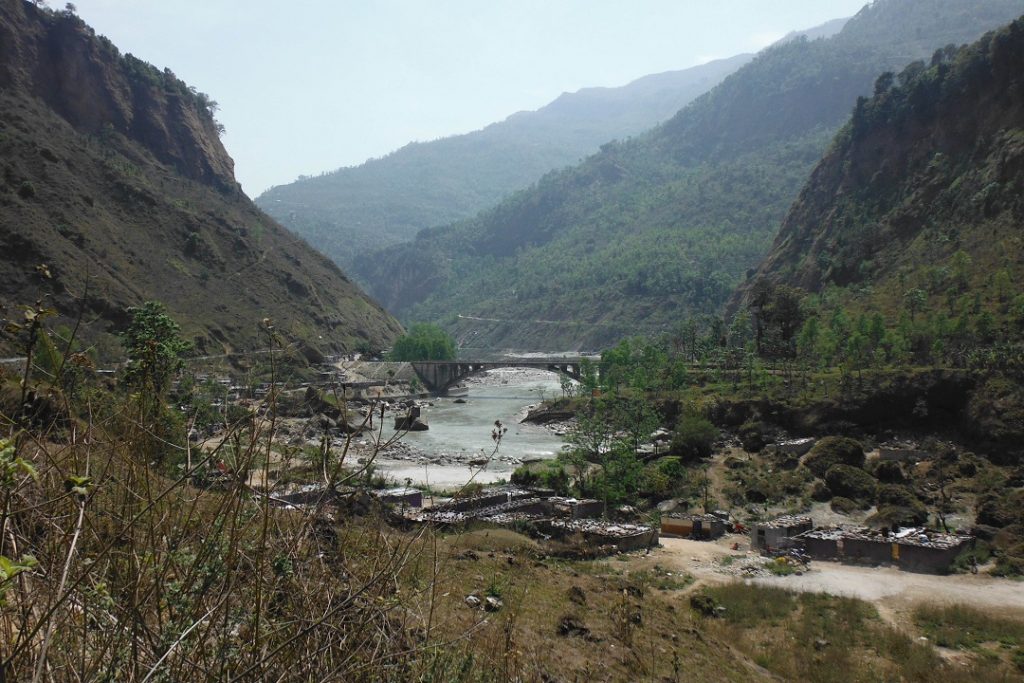 After a 6 hours of exhausting ride, I reached the famous place of "LUMBINI".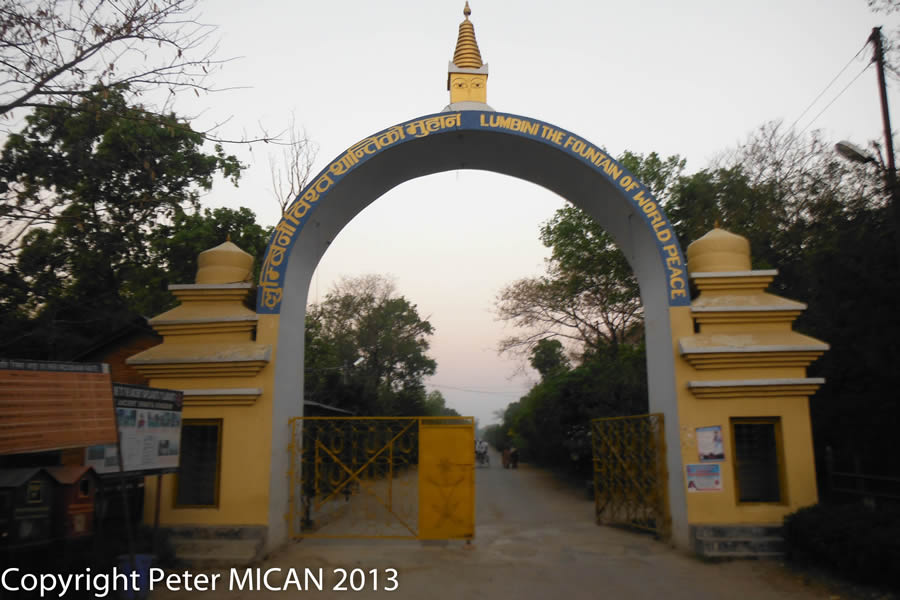 I was not impressed at all, everywhere extremely dirty, rubbish everywhere, unfriendly peoples, dust, hot …….
What am I doing here ?
Went straight to the guesthouse, NRP 1200,-/night, and fell asleep immediately.
However, not for long, at 7 PM, burnout, an old diesel generator, located in front of my window, started jumping and stinking until 12 PM.
But this was not all, the whole night we were tortured by extreme loud, overpowered amplifiers and speakers, with religious Hindu propaganda, all this on "Buddha's" birthplace, what a shame, totally unrespectful.
No one could sleep and early next morning I went to the birthplace location.
It was 6 AM and I was alone on my way.
Reaching the entrance of the "Lumbini Foundation", a Tibetan Buddhist Monk approached me, he complaint about terrible stomach pain, and he explained to me that his Monastery has no money to pay for his operation in India.
After asking him, why he could not be treated in Nepal, he answered that the facilities are not good enough to handle this case.
So I believed his story and donated him NRP 1000,-.
On my way, I met other peoples who had the same experiences with other Monks and it came out that all this dramatic stories are ALL scams …….
So even the Monks are not real here in this place, unbelievable and shocking.
Whom can you trust in this country ????
After paying the entrance fees NRP 200,- (locals pay 20,– … again, tourists got ripped off and paid tenfold the price everywhere you go) I went to the holy birthplace of Buddha.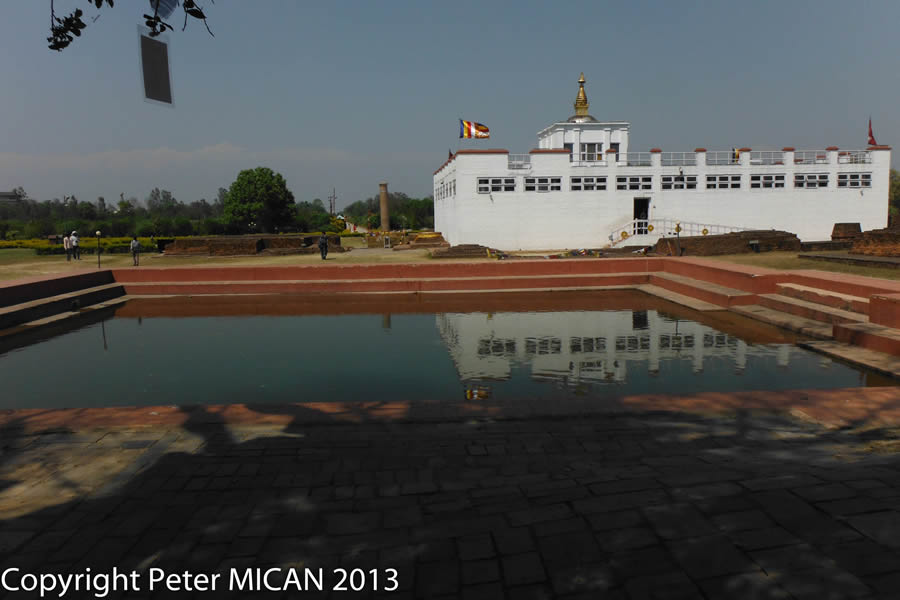 This is a very simple and rough built building, inside are only a few old bricks and a stone under bulletproof glass, where Buddha was born, at least this is the story.
I could not feel any spiritual energies inside there and after I try to make a picture from the birth-stone, a polis officer run screaming to me and nearly pushed me over the guard rail.
OK, thank you for the nice welcome to this place ….
There are no signs or instructions what is going on here, if you like to know the details, you have to hire a guide.
After the second approaching of guides, who could hardly speak a word of English, I decided to be on my own.
Rubbish everywhere, disgusting …..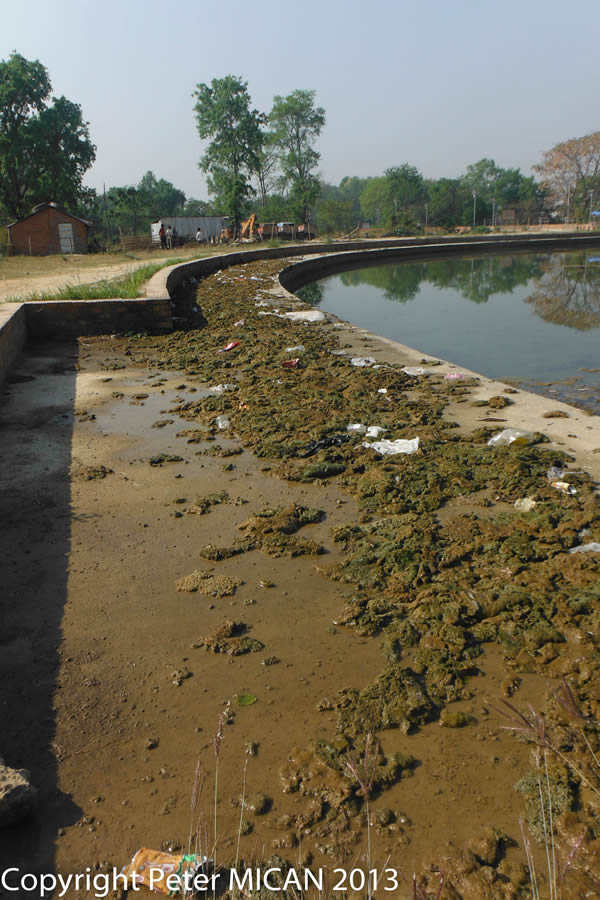 The "Hindu Propaganda" was still going on and could be heard all over the place, very annoying.
I did a lot of dowsing on the different sites without any result, my pendulum was absolute stiff, this had never happened to me and until now I cannot figure out what was the problem.
In most of the monastery's I could feel some energy and especially in the Chinese and German build complexes I could feel strong energies, what a relieve, at least something is working here.
I was extremely impressed by the German build Complex, spot clean, well maintained and chanting monks.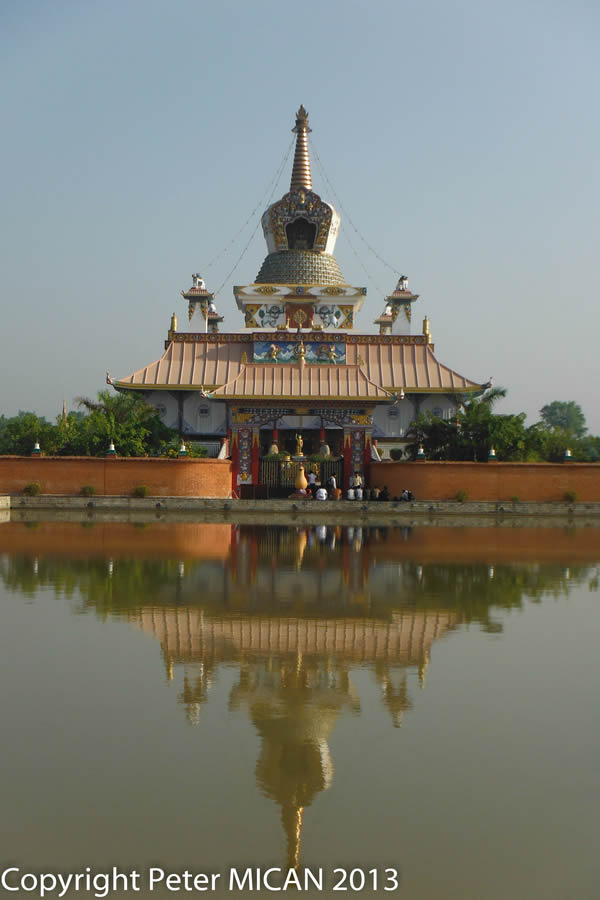 All the other places were empty, some of them even closed totally.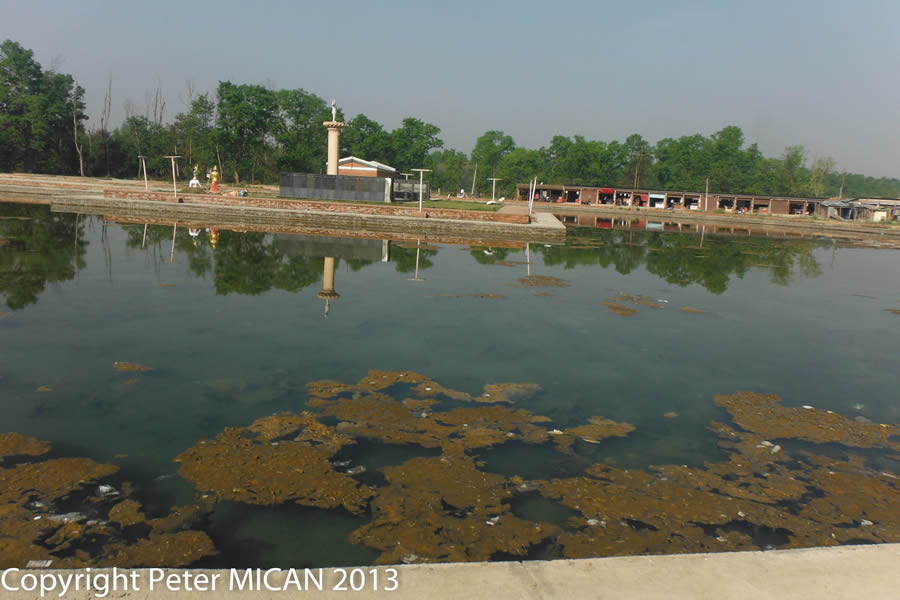 I was told from insiders that millions of donated dollars are missing, again, a total rip off, even on holy places, absolute unscrupulous.
So, after my tour around the whole complex. I ended up again on the birthplace of the Buddha and took a rest by the side of the holy tree, which the Buddha's mother had touched.
The pool, where Buddha's mother has taken a bath after giving birth, is a totally dirty and filthy place, shameful again, the turtles which are living inside there must have a hard time to survive.
Suddenly, a big group of monks showed up and started a big ceremony around the holy tree.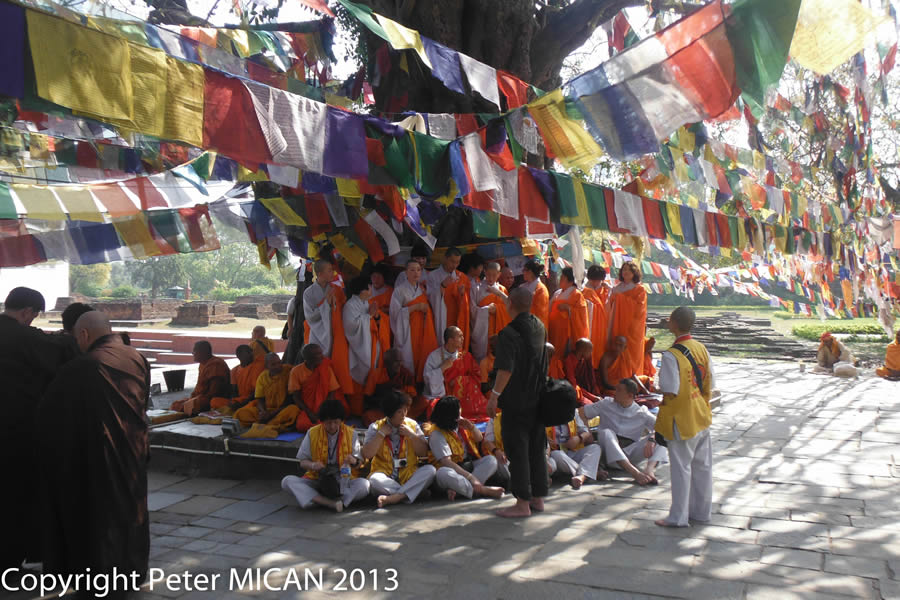 I was very happy at first thinking that I was so lucky to get to experience something here .
But after about one hour the truth came out.
This whole show was a set up for a hefty paying Korean pilgrimage group, and after the whole fuss was over, the "Monks" took off their robes, wearing jeans and speeding off in motorbikes …….. I could not believe that at all.
The Korean Group was totally perplexed and we all were shocked from this kind of cheaters, can't believe that this could happen on the Buddhist most holy place.
The whole time I was accompanied by a very intelligent and friendly Nepali businessman and he also shook his head after watching the show.
He was investigating business opportunities in Lumbini, but after he saw this, he was shocked and felt very sad.
Later, I went over to the holy tree, where a monk was sitting and chanting.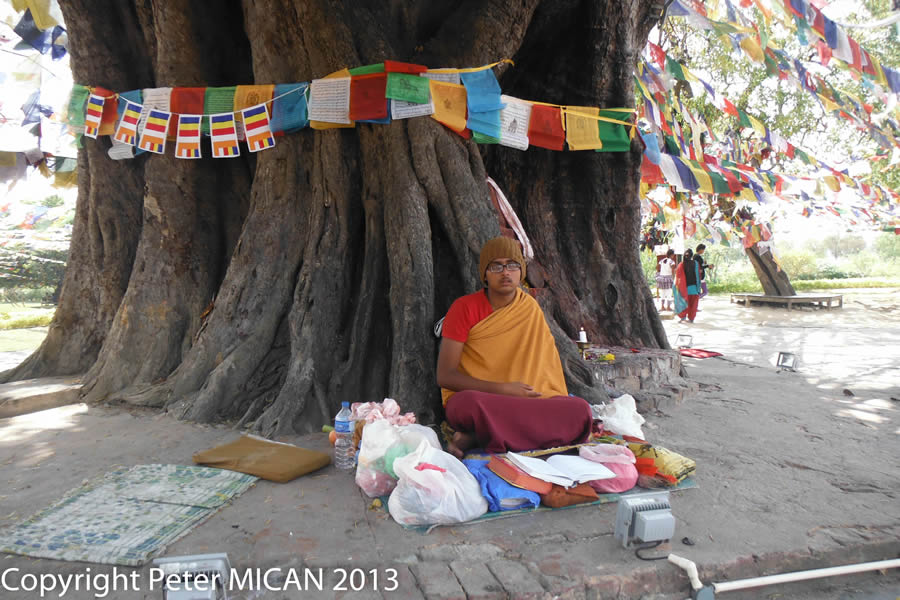 I asked permission to take a picture from him, he started to bless me and we started a conversation.
I donated NRP 100,-, to him what he did not ask from me , to my surprise. After taking my money he showed me a bundle of 1000,- Rupees Notes, which he had kept under his robe.
After asking him too much questions he became very uneasy and stopped our conversation immediately.
To my surprise, he has a mustache and wearing Jeans under his orange robe …… I will not comment on this one, make your own opinion about this monk.
My plan was to stay at least one week in this holy place, but after all this negative experiences and vibrations here, I decided to brake off this nonsense. Next day, early in the morning I was heading to the famous "Chitwan National Park".
On the way, I had to fill up my tank again and was cheated from the petrol station operator again.
They are very clever and tricky, they count your changes two to three times in front of you, so you can see clearly what he is doing, you take the money and after you count yourself, half of it is missing.
I guess they fold the notes in a way that they can count them twice, but I could not figure out 100% how they do that.
This "money changing" events had happened to me many times, I always got cheated, even I was very aware of the situation.
I have met a trekker who had seen a Tiger just in front of him on a track in this National Park, therefore I was very excited to go trekking there too.
After entering the town Sauhara, where the most guesthouses are located and the tour begins, I could not find my targeted guesthouse and asked a man in a green uniform.
He showed me the way, which was just around a few meters the corner, and also told me that he is the head of the government national park guides, how lucky I am.
He also told me that I should not talk to anybody else here in town about trekking in the park, because they are all cheaters.
So next morning he was waiting already in front of my room, without me asking for his service at all.
He offered me his service to guide me on a one day trekking tour for NRP 8000,-, which was a total rip off again.
After bargaining a while he comes slowly down to 6000,-, but I was so fed up from this bugger that I was not interested at all anymore.
I am not willing to support this kind of business and cheating, I would rather miss the chance to see "my" tiger.
Bought a bottle of water in a small shop for NRP 50,- … normal price everywhere 20,- !!!
Therefore, after this negative encounter I decided to visit the "must see" elephant-breeding center.
This was absolutely the most disgusting experience in Nepal at this point of time.
The elephants all were on chains, even the baby elephant was not spared and ALL of them are mentally sick, this could clearly be seen from their behavior and monotonous head and body movements.
Be aware, there are very disgusting pictures following below, if you cannot handle them go fast over them…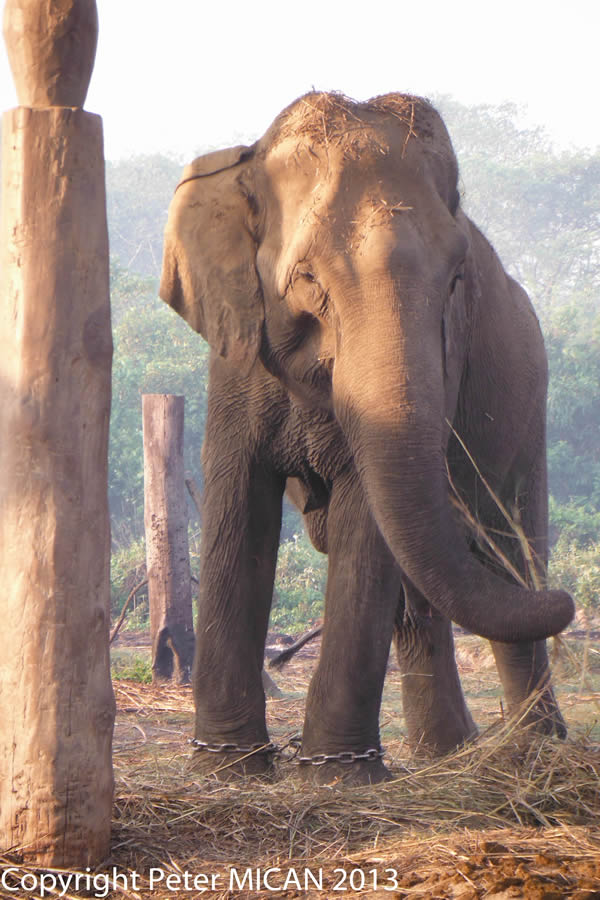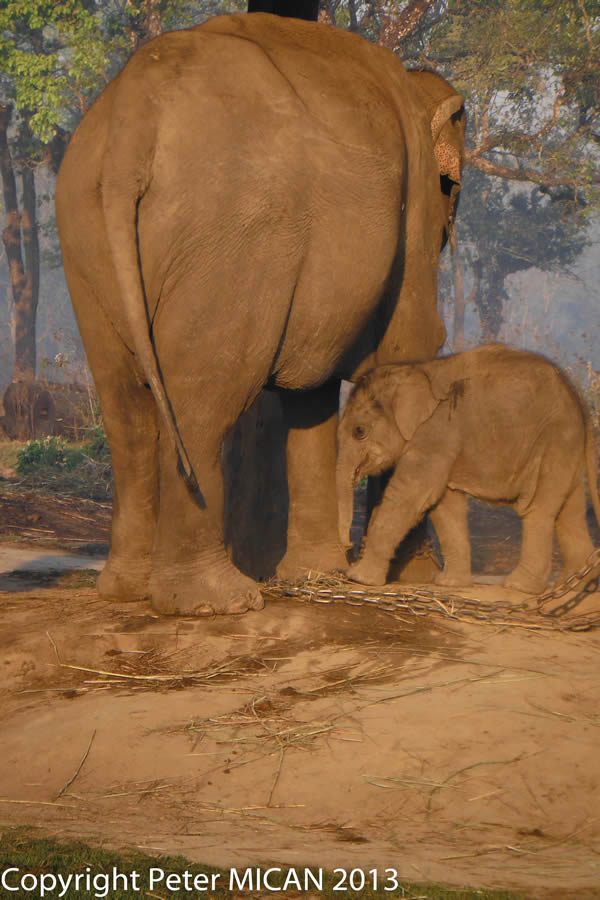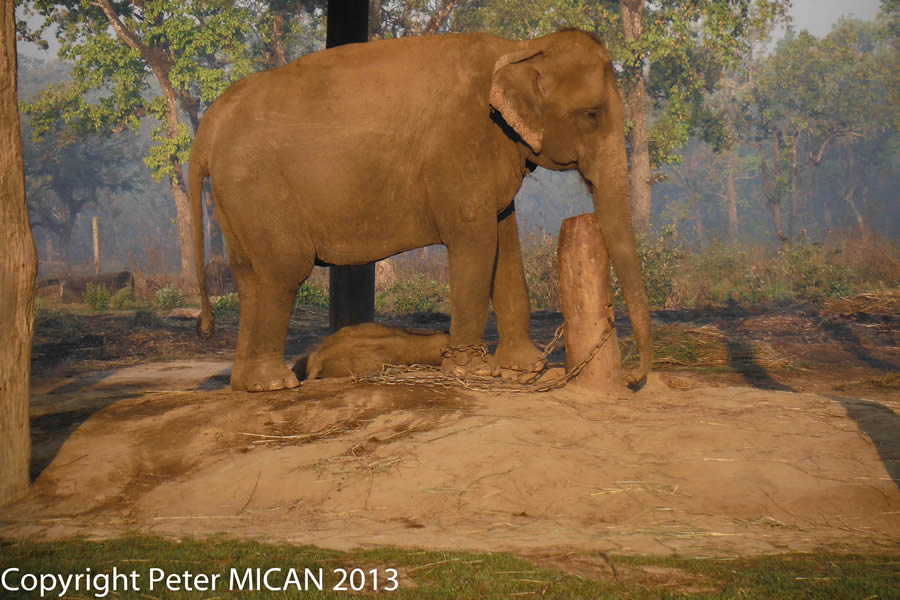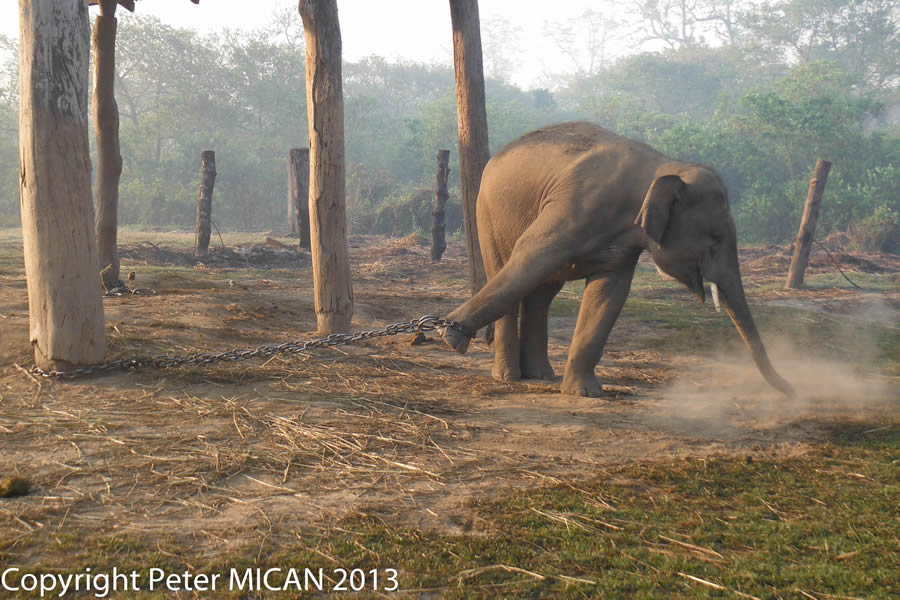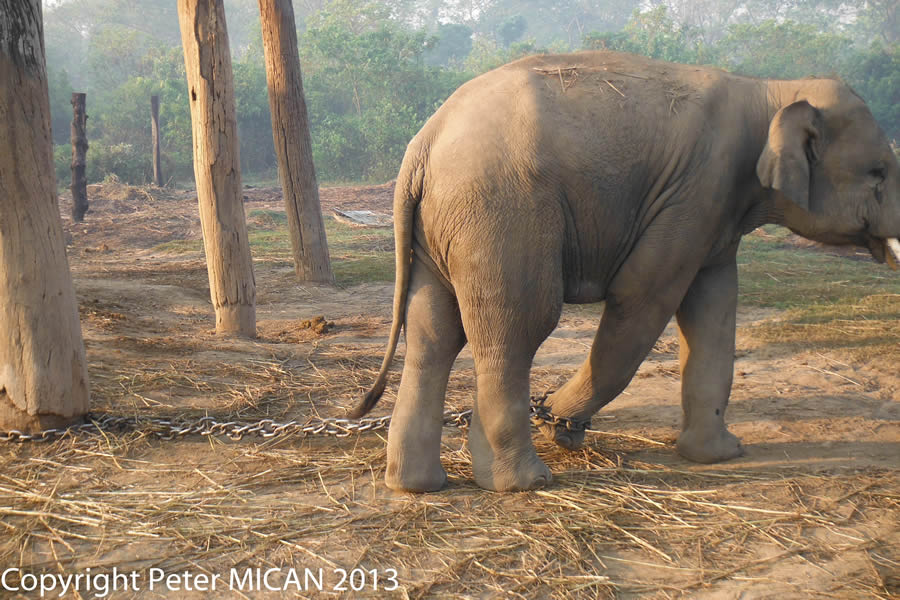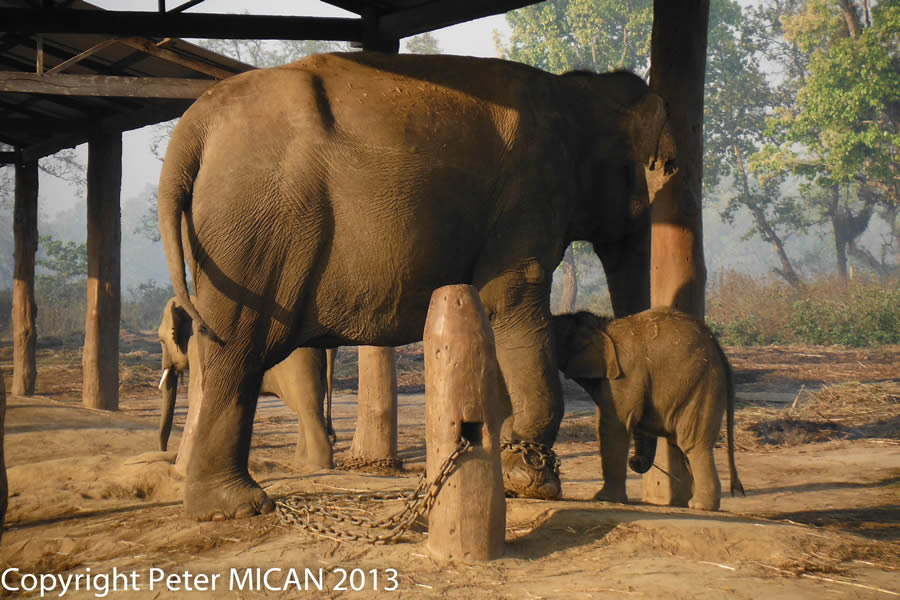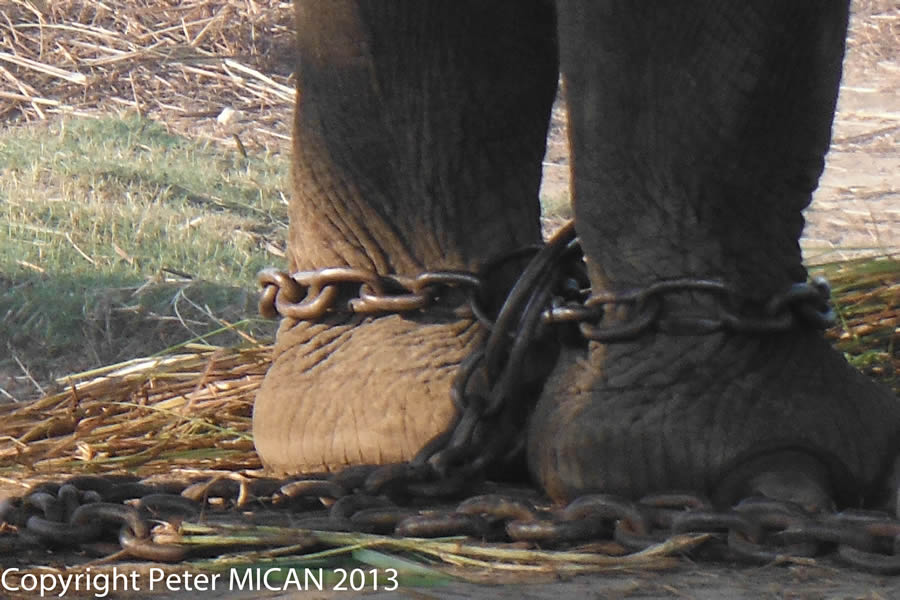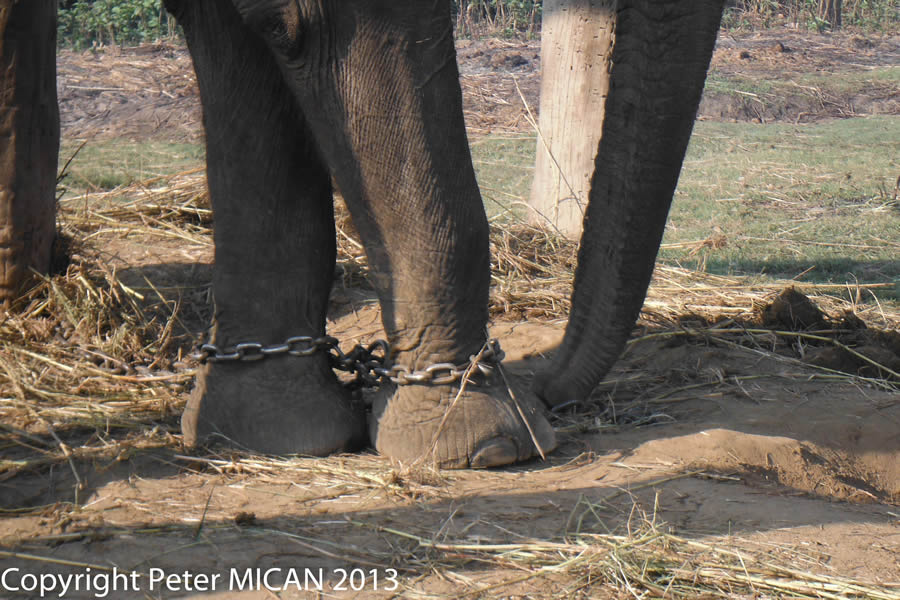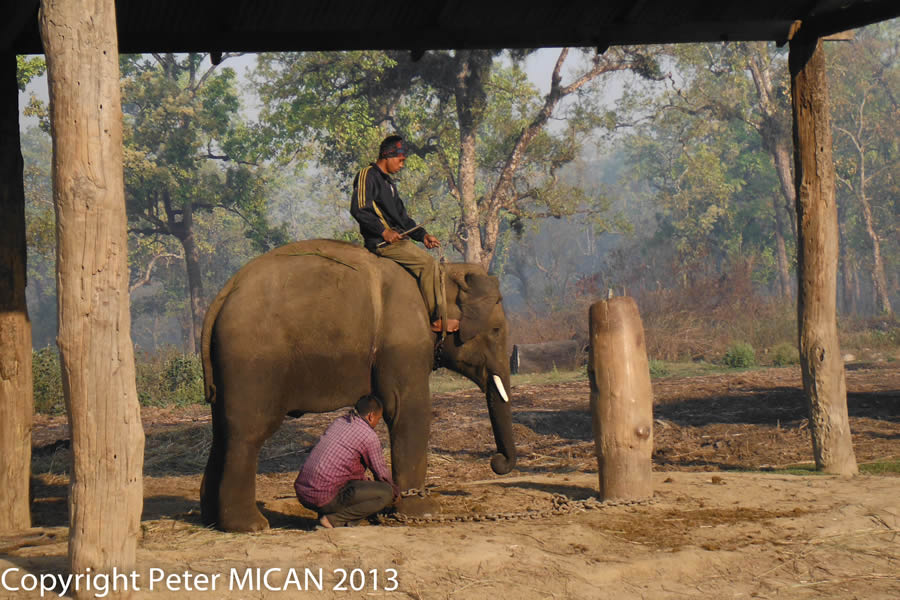 All of the visitors were very shocked and we thought that we have to buy this elephants and set them free.
However, I am sure, they would catch them and the torture starts again.
The enormous elephant bull was completely locked in chains, his both front feet were chained together in a way that he could not move even a millimeter, his entire live.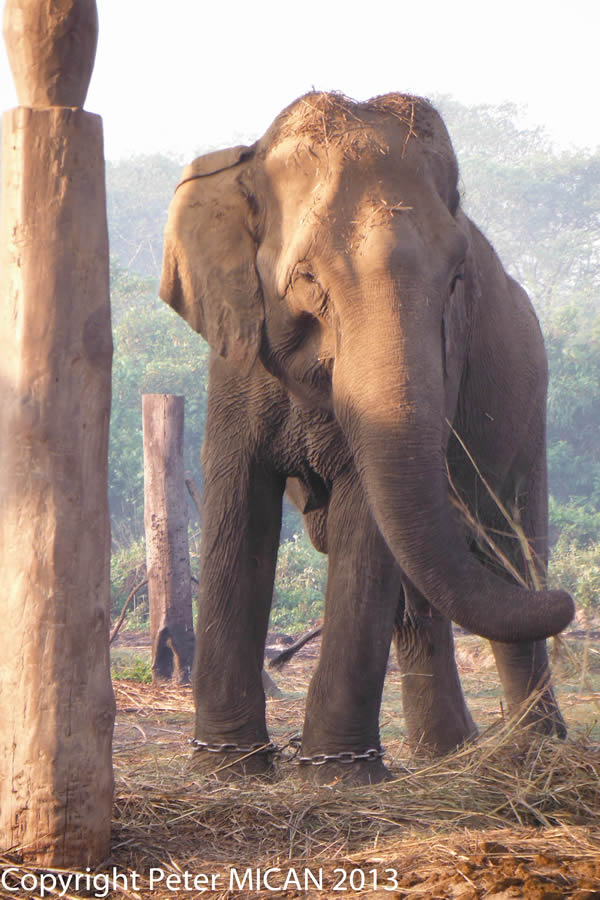 Only when they need him, a few times a year, he will be free for a few minutes to do his job.
This is a cruelty, which I could not imagine and I have never seen in my live.
I saw also the training methods, unbelievable cruel and brutal.
The mahouts used steel spikes and hooks to control these elephants, no smooth word can be heard, only shouting and brutal torturing were seen.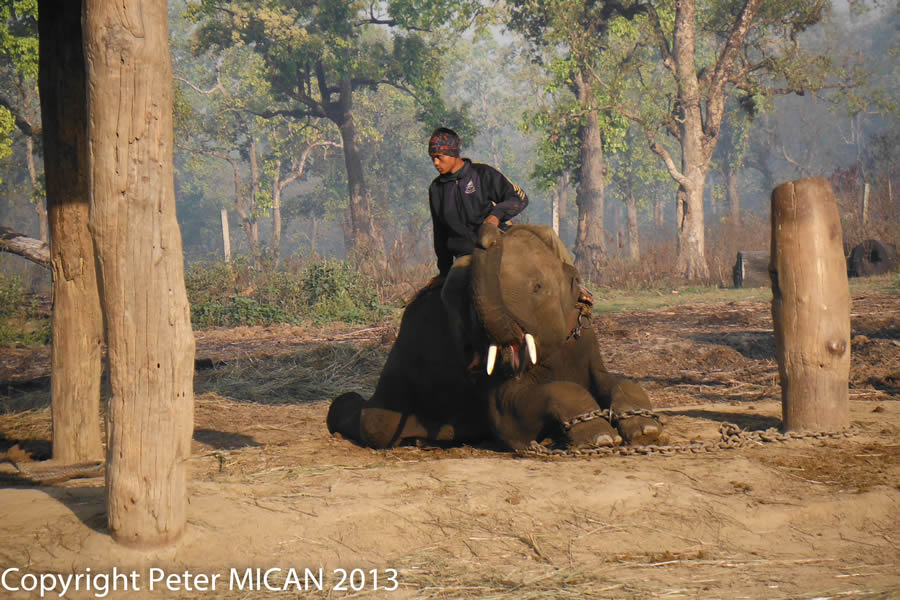 I had to go out of here before I got insane, I still cannot understand how humans can be so cruel and brutal.
This is even sold as a "must see" attraction ?????????????????????
Just have a look at the steel spokes they use, they ram them into the heads of the elephants , absolute brutal and disgusting… stupid tourists stand by and watching this torture ???¿¿¿???
In the meantime my throat was getting worse each day, I lost my voice completely and breathing especially at night becomes a real problem to me.
After all this negative encounters in Chitwan National Park, which should be called "Cheat..wan" and listening one whole night to a generator in front of my room, I headed off eastwards to Janakpure, close to the Indian border.
Still have not seen the Himalayan Mountains !!!!!
The road on the southern plains was quite good and I could make good progress.
Nevertheless, here in a length of about 150 kilometers the forests was burning and the pollution was extreme, you could not see a mile and breathing was very difficult for me then.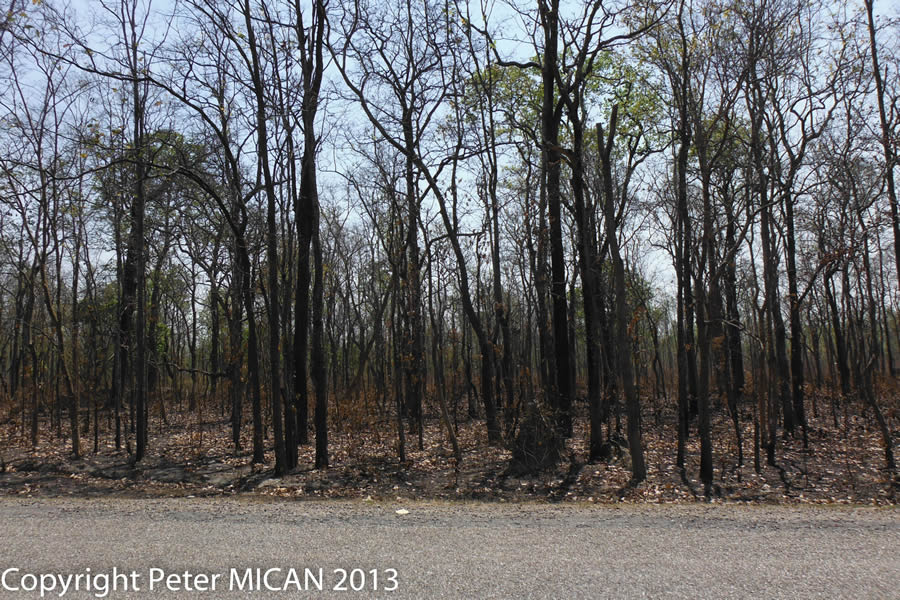 Reaching this famous town, I was shocked again, all this dirt, noise, heat and chaotic traffic is an absolute nightmare for a nature lover like me.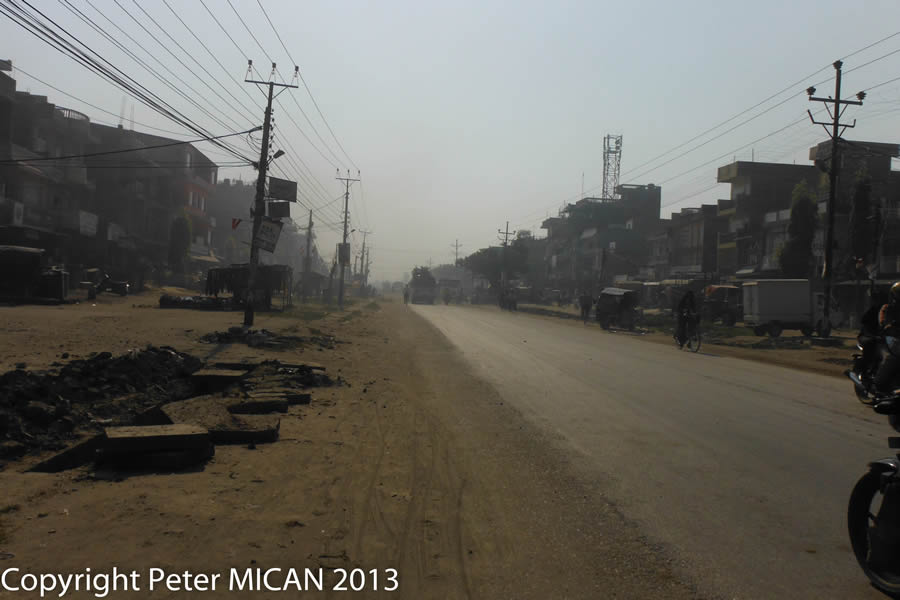 The room was filthy and the toilet unusable, absolute disgusting.
The noise level in this town has exceeded everything experienced until now.
Middle in the night I got a panic attack, for a few seconds I could not breathe at all ….. a horrible experience.
So I scratched my head and was worried about my health situation.
My idea at first was to head more East and approach the Himalaya's from there, in the hope to see the mountains.
After asking the guesthouse owner, he told me, the further I go East, the more pollution I have to face.
The only nice building in this town was the palace…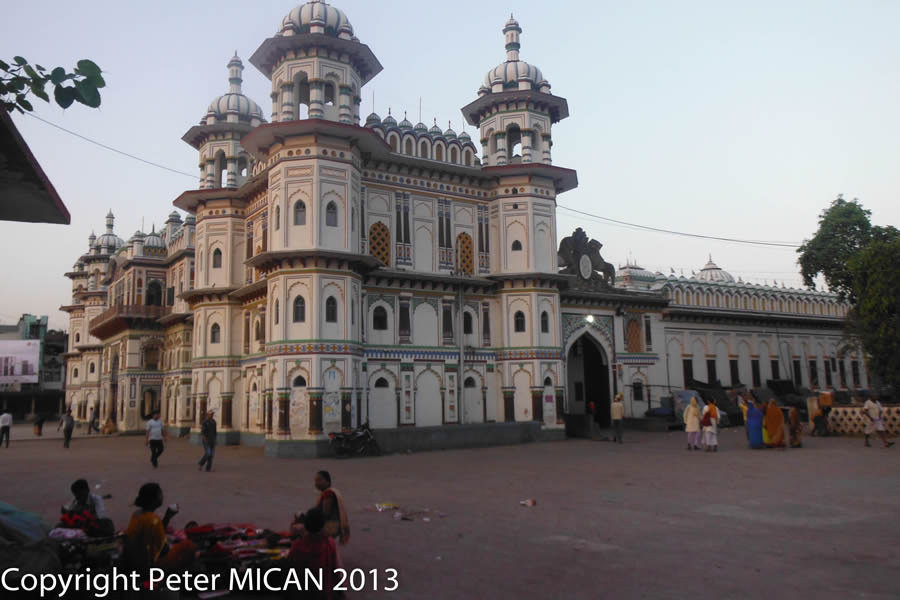 The situation was clear to me; I could not handle any more of this dirty air for very long.
So I decided to head back and try to find a place with relative clean air.
After checking the map, I was heading off to Daman, 2400 m above sea level, with the hope of better conditions.
Daman has the best view of the Himalayan Mountains, and this town was actually my final route home and back to Kathmandu.
But I had no choice, I had to change for a better place.
The whole trip westwards was a total nightmare, 200 km burning forests, dry up rivers, extreme dense dust, strong winds, crazy and dangerous traffic …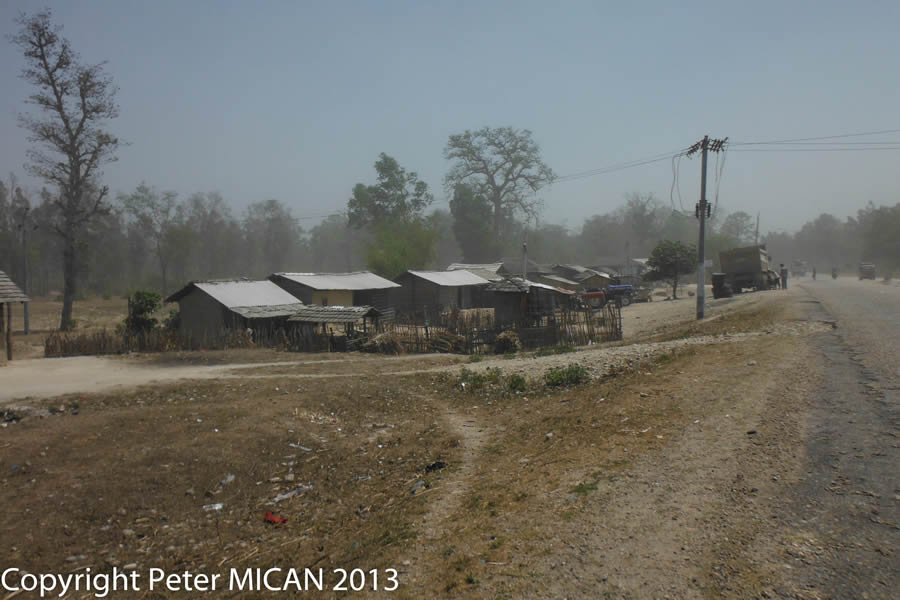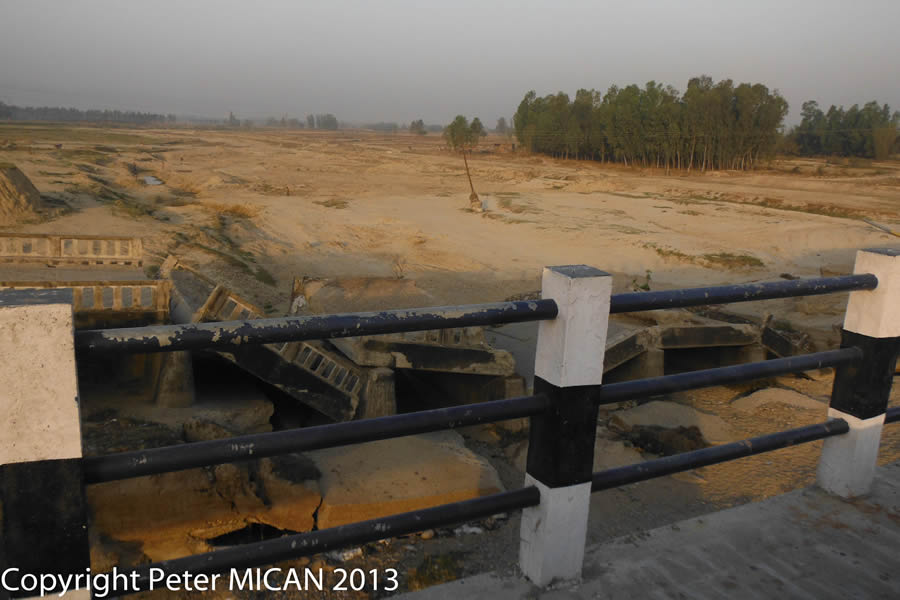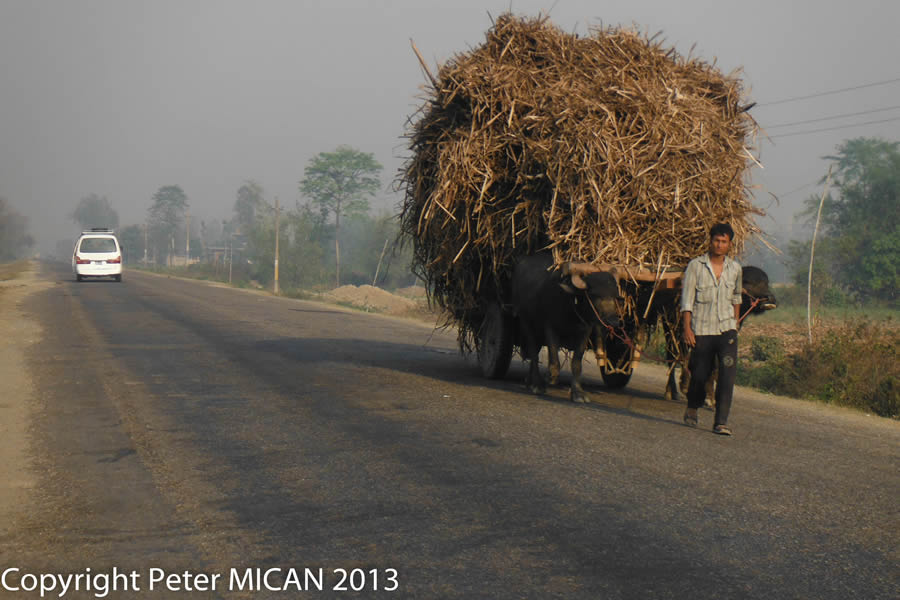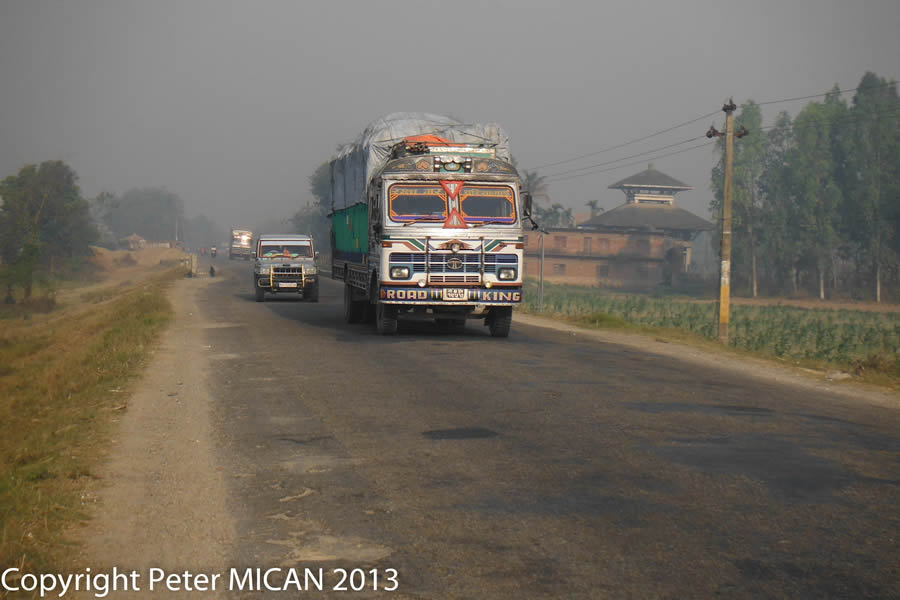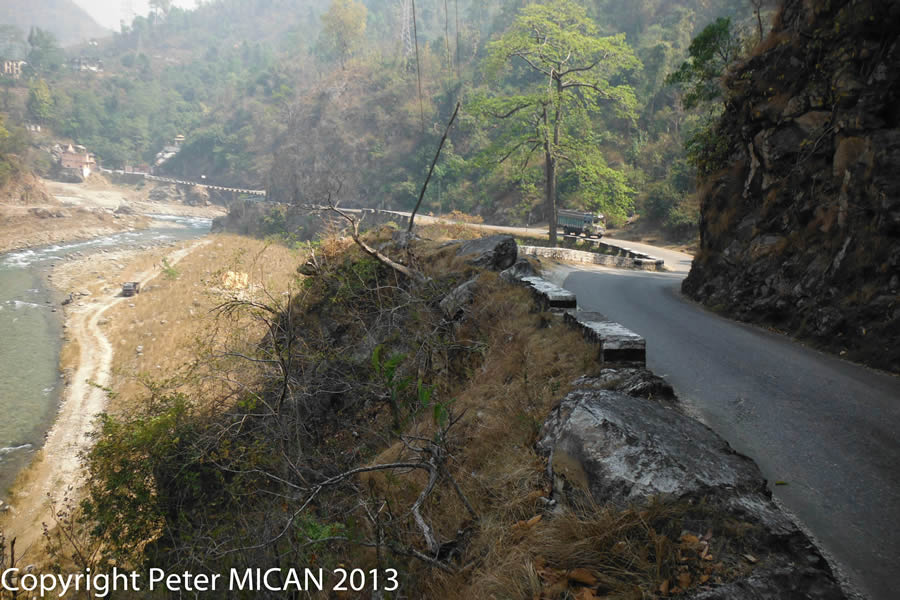 Reaching Hetaura, it was time to fill up my tank again he he he .. this time I will be smart, I thought.
My tank needs about 10 liters to be full, but hold on, the guy charged me for 17 liters !!!!!!
Again the same story, screaming and shouting at me, many peoples around me …
Explaining to him that my whole tank can hold only 14 liters, he got even more in rage and it was close that we get in serious troubles.
Two people were holding me on the bike, so I could not just speed off.
Again, a new lesson and new Trick learnt. What kind people are here in Nepal …. ???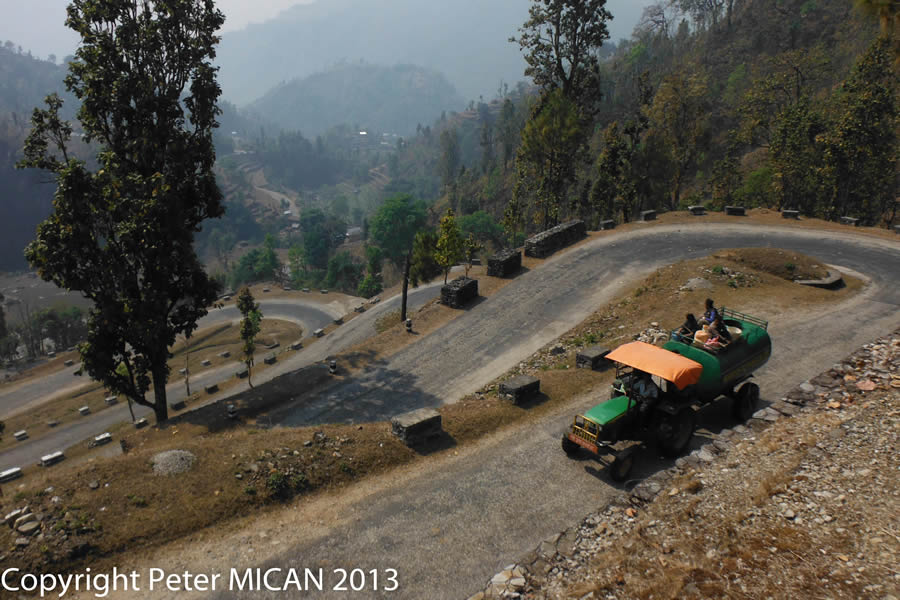 After 6 hours torturous ride I reached my destination, Daman.
The last 50 km was awesome beautiful, no traffic, nature pure, except the air pollution.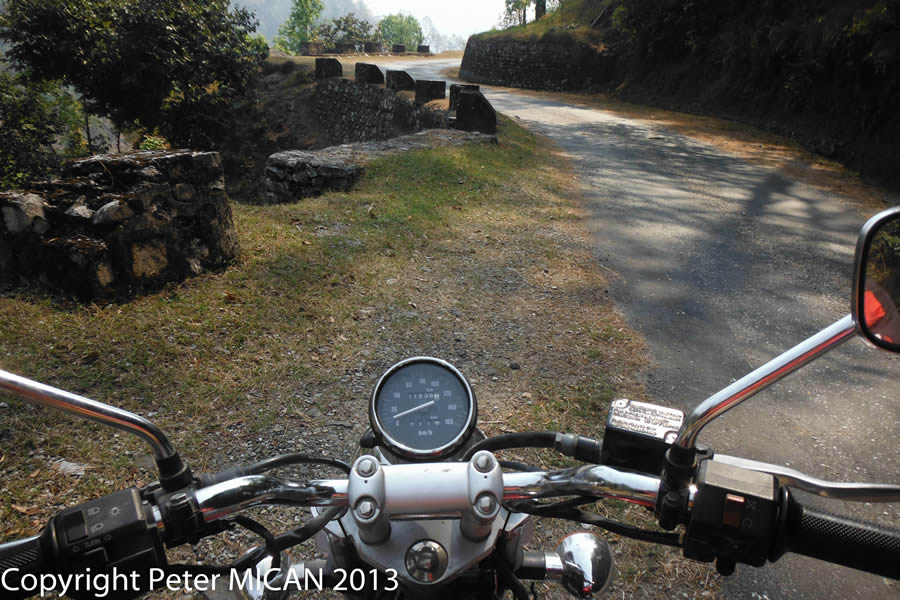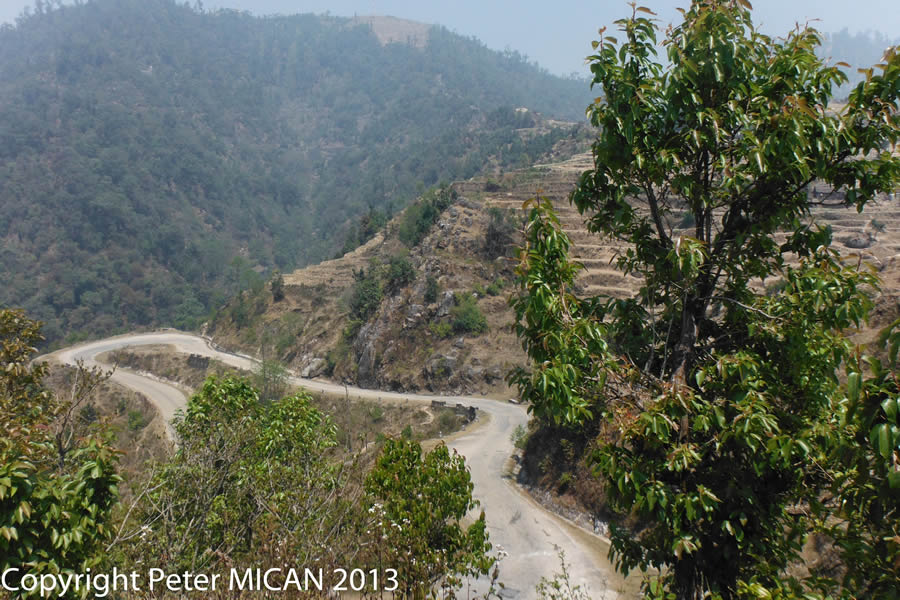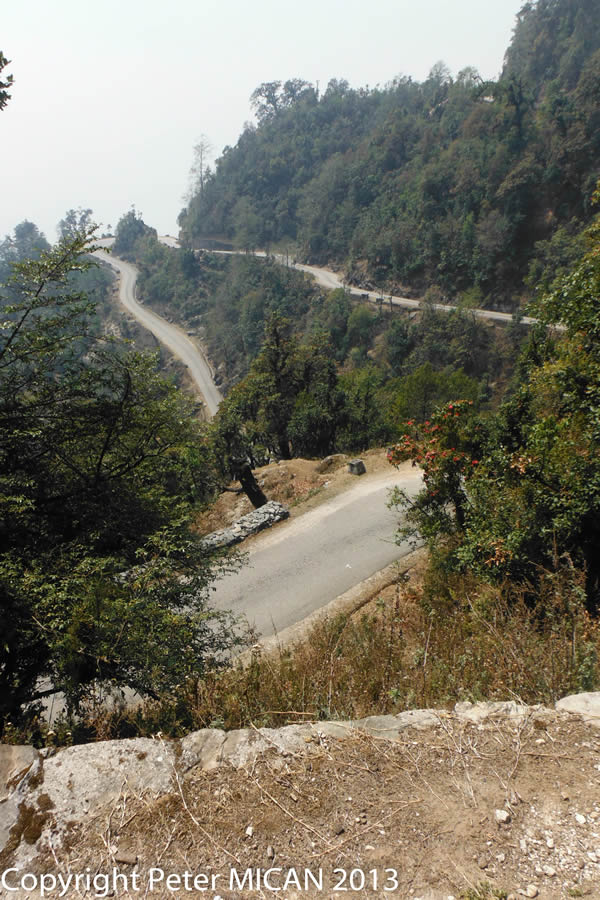 This was the most beautiful ride so far.
I checked in the "Sherpa Guest House", 300,- / night, a basic but absolute quiet place in pristine nature.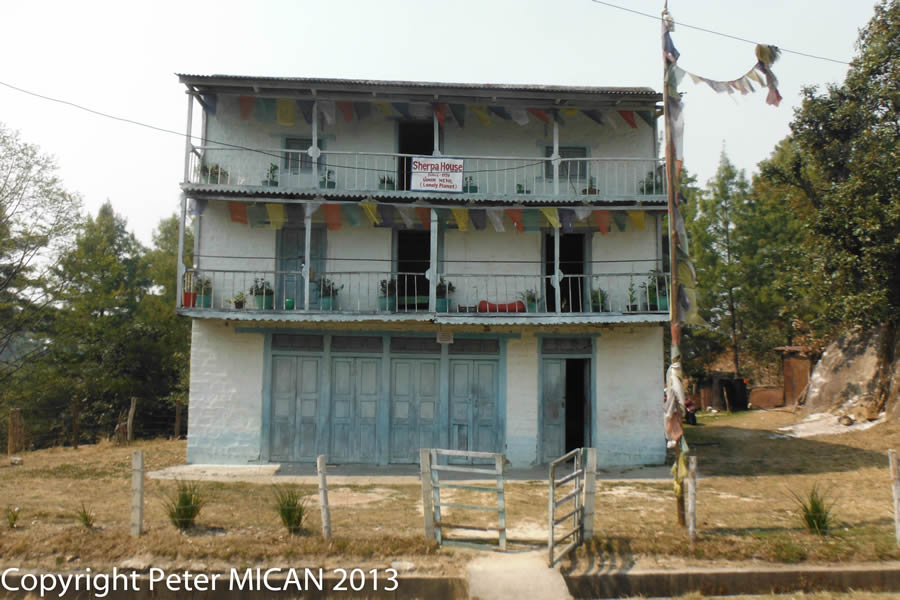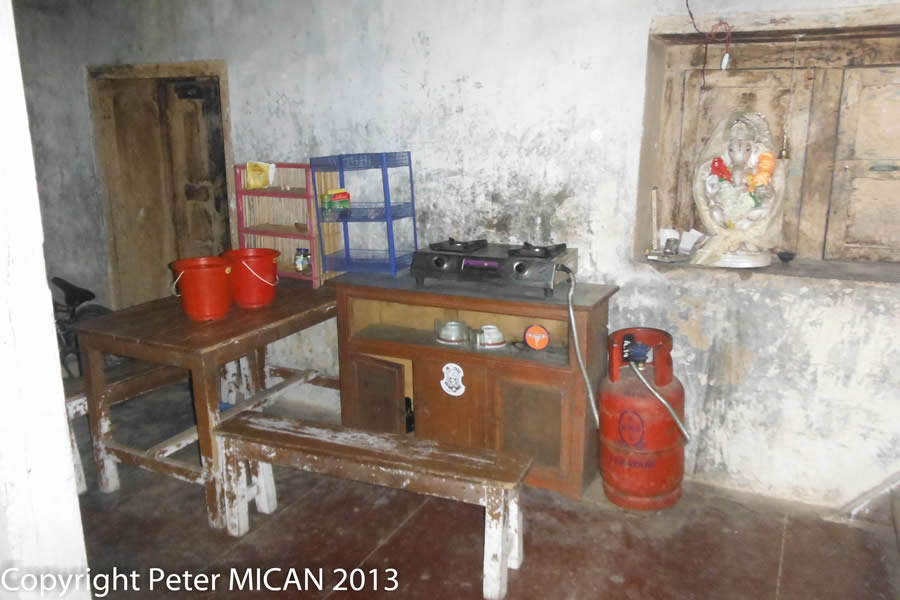 I was so impressed that I was planning to stay here two weeks to recover from my last week's pollution.
After telling this the owner, a nice 63-year-old Sherpa lady, she pushed me to pay in advance, because she urgently needs the money.
I agreed and we had a deal.
There was still bad air pollution, but much better than in the South of the burning Nepal.
So at least I had a quiet place to stay and my hope was to recover from my health problems.
After about two hours, an Australian became my neighbor, a lost hippy on a tight budget, totally paranoid, smoking nonstop Marihuana for 5 months during the winter time, which he spends in northern India.
This was exactly what I needed…..
The restaurant, which was operated by the daughter of the old lady was disgusting, filthy, and dirty and rubbish everywhere, as usual in Nepal.
All peoples in Nepal are spitting and cleaning their throats permanently, this is a disgusting behavior, especially when they do it in front of you and you are trying to get the food down from the dirty kitchen.
Peoples are sitting uninvited on your table and staring at you, checking and commenting every movement …… you feel like a monkey in a zoo, no joke.
It is very cold up there and the sleeping was in full clothing, everything I had, and in a sleeping bag.
The provided blankets I could not use, they had no cover and was not washed for the last 20 years at least …. brrrrrr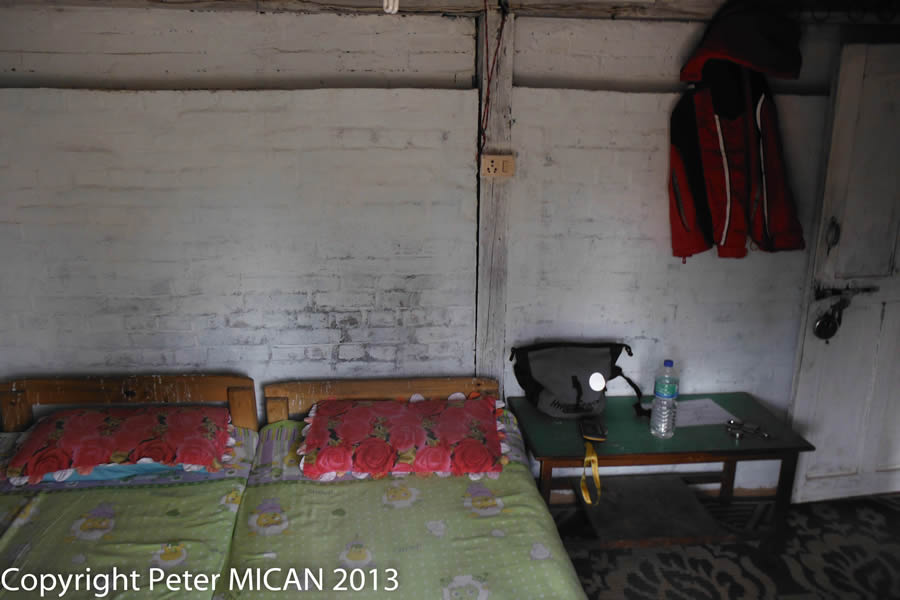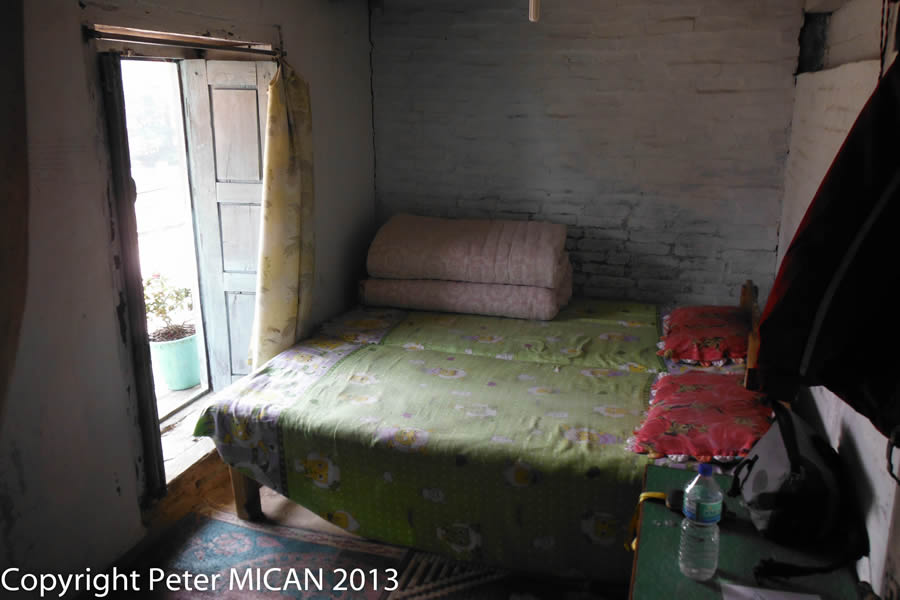 The toilet was a hole in the ground in a tin shed and the shower was in the garden, two rusty drums in the open air.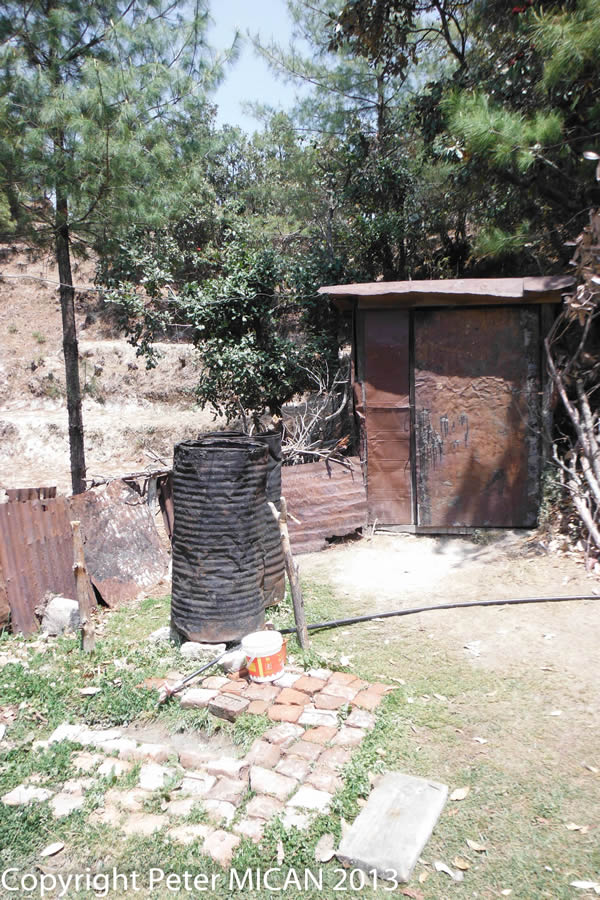 The second night, I got again in troubles with breathing and I was close to drive in the middle of the night to Kathmandu, but there the pollution is even worse, so what to do ????
Keep calm, I said to myself and see what comes.
The next few days was a bit better, but no view of the mountains at all and two more breathing problems at night.
The pollution getting worse with every day and I had my first thoughts to break off my holidays here and fly home.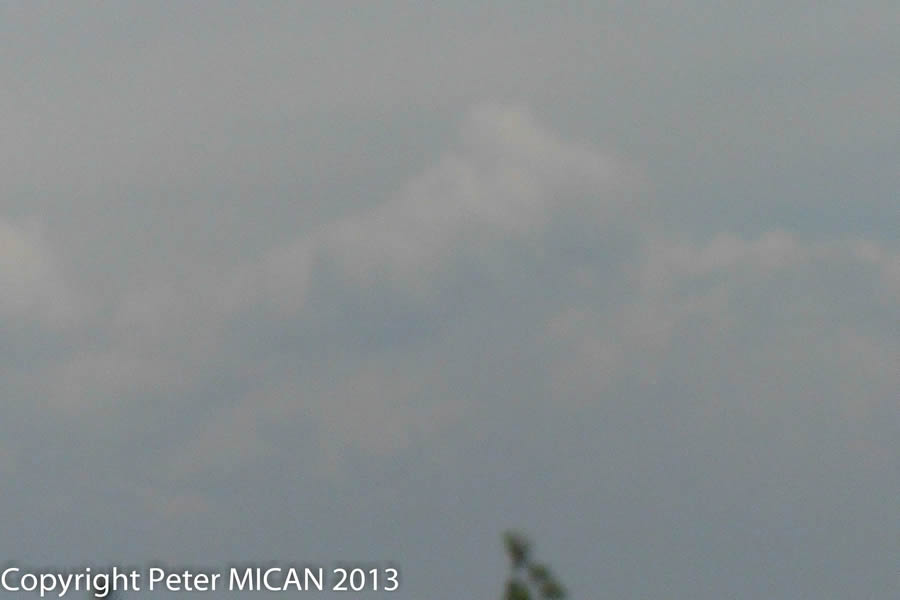 My Prana Nourishment did not work at all here, probably my clean body cannot handle this extreme pollution.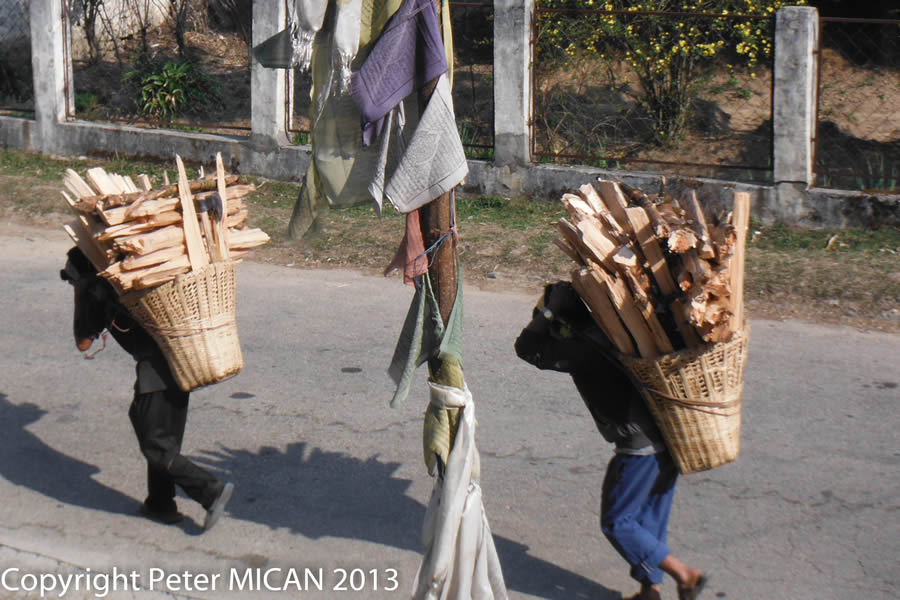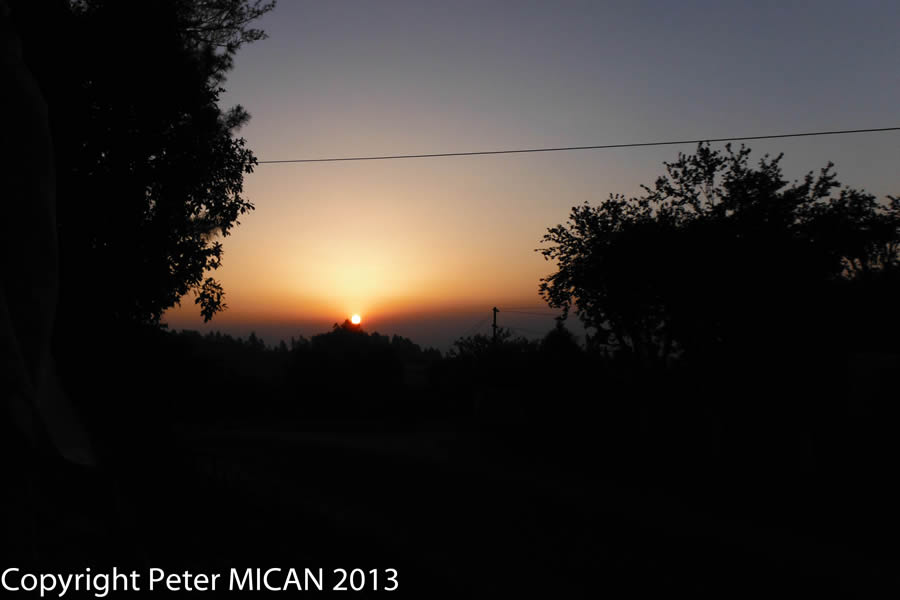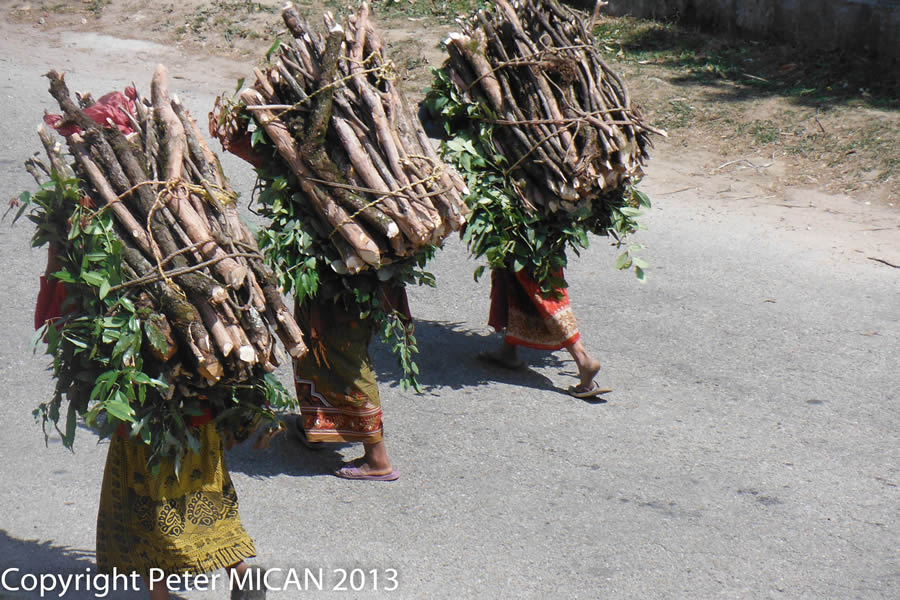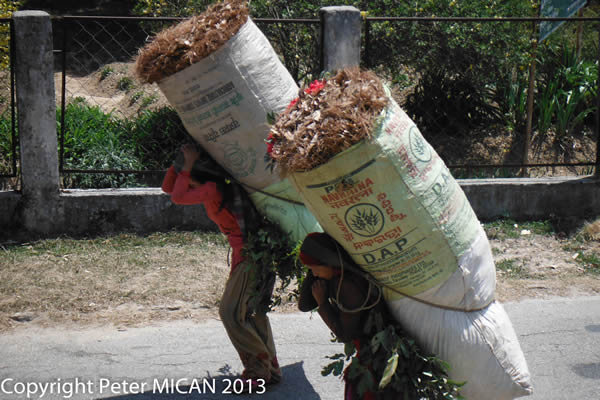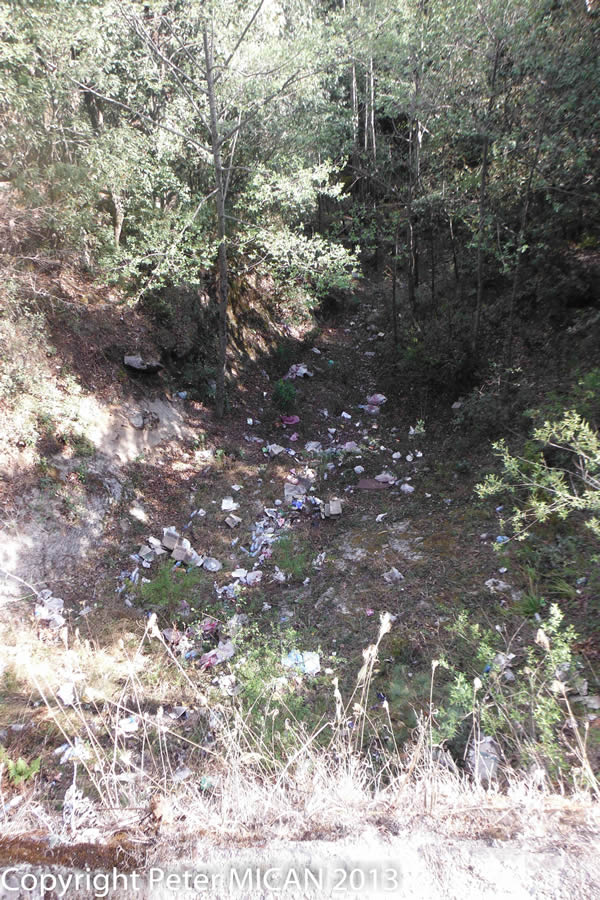 On the 14.April, New Year in Nepal, I got a clear message from "above" that I had to leave this place.
I thought today would be a good day on the road, because of the New Year Festivals, there would be no Trucks and Buses on the road, and that was true.
So I went for my breakfast tea this morning and told the Sherpa Lady that I will leave shortly, even if I have paid for one more week.
It was not my intention to ask the money back, because I knew she did not have it anymore, but I hoped at least that my tea was free of charge at least .
I was wrong, I had to pay NRP 20,- for my tea…. Even I still had NRP 2100,- left which I had paid in advance ??????
Make your own statement about that !
I packed and off I went.
The first 30 km were again extreme beautiful, I was alone on the road and enjoyed the ride downhill.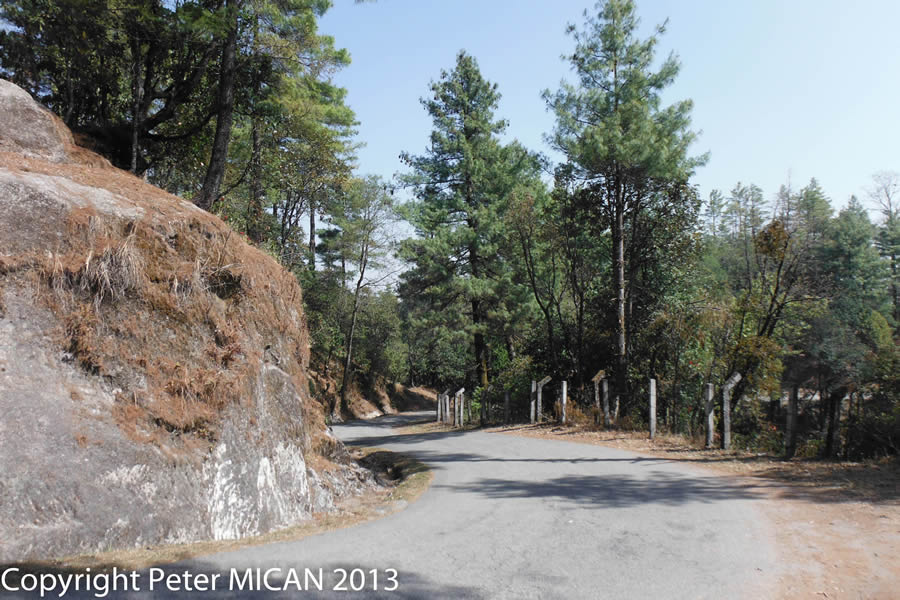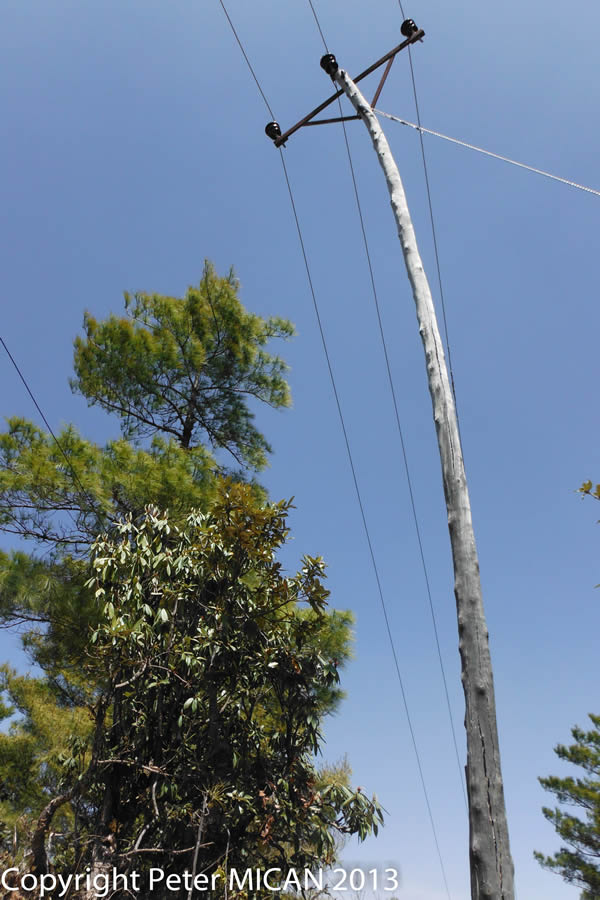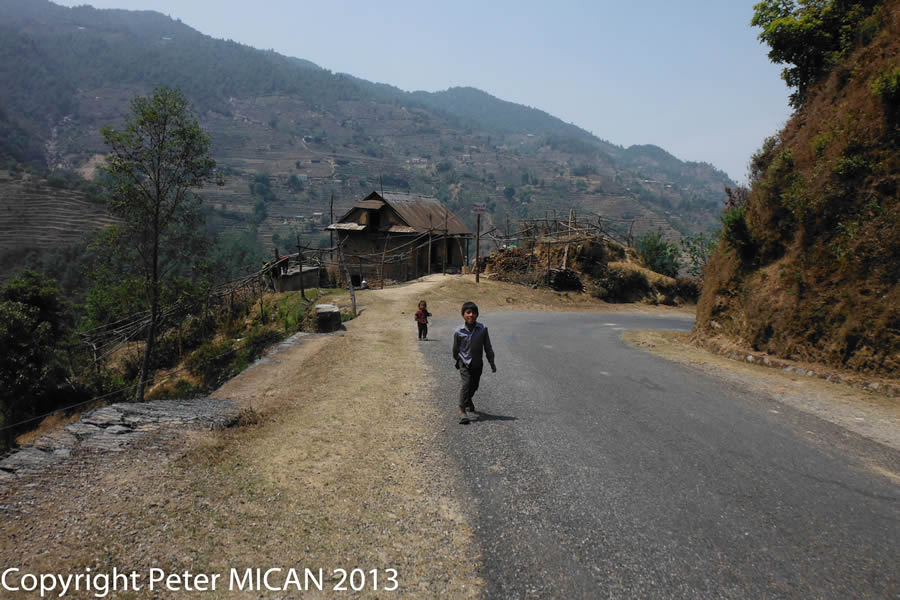 My decision was made, go to Kathmandu and try to get home as soon as possible, even I have my return flight booked in three weeks from now.
I felt clearly, that I could not survive this time without serious damage to my health.
10 km before Kathmandu, disaster strikes …..
I was riding on the highway approaching Kathmandu and saw on the side of the road two girls sitting on a scooter and waiting to cross the road to the other side, where a petrol station was.
I felt this situation a bit strange, slowed down and just as I passed by, the girl crossed over without looking to my direction at all, hit me by the side of my bike. (was that intenionally ???¿¿???)
Off we went , both of us were sliding side by side and I landed on top of her bike.
Luckily all of us, the two girls, and me were not injured, except a few minor scratches.
So with the help of onlookers, we pushed our bikes on the side and started to sort the matter out.
The first I heard was, I have to pay for everything and have to compensate the two girls for their injuries…….
So I figured out immediately that this will be the typical rip off again and asked for the police, who was called by a peasant.
I had also two witnesses and was convinced this situation would be sorted out in no time at all.
Far from the reality, a nightmare started to ……
After about 15 minutes, the civil police arrived, with about 5 officers, and they started to check the situation, without even asking me what had happened.
Everything was clear for them, it was my fault, of course …..
Also the lady driver had disappeared and when asking where she was, I was told that she was in the hospital to treat her "serious injuries".
I asked what kind of injuries she had, I was told that would have to be sorted out in the hospital and later we would know exactly the outcome.
The police officers got very fierce and now we have a heavily injured person, we have to go to the police station to sort that out.
The passenger girl on the bike was permanently on the phone, for at least half an hour, and after reaching the police station, there was at least 15 witnesses from the girl side, mother, father, brother, sister, uncle and anties and a few more friends,. ALL of them have exactly seen what happened.
I was speeding and running the innocent waiting girls over.
What a joke, but this was real and not a movie ….
The police officers was totally on their side, there was no doubt at all, a big fish was in the net.
After explaining and endless explaination of the situation and when the police saw no sign that I was an easy target, their boss was called in and he started also accusing me and constantly threatening me with a 2 years jail sentence.
My two witnesses were not even allowed to enter the police station, because they were untrustworthy.
Without even asking me questions regarding the accident, a sketch was drawn by the police officers which was a total joke, everything was wrong, even the location and the direction I was riding.
The drawing was so absurd, that the police boss had even agreed to make a new sketch, again I was not asked at all.
After explaining to the police boss, that all those witnesses were not real at the scene of accident at all, he agreed, that we made three individual sketches, with single witnesses in the office, again without asking me at all.
You can guess what the outcome was:
Three total different sketches of location, directions and one witness could not even differenciate the two motorbikes in front of him.
This was already a total joke, but the police officer still insisted that everything was clear, I was guilty and was the cause of this accident.
In the meantime, the lady driver showed up in the office, with a brand new plaster on her foot, about the height of a hiking shoe.
She also brought an x-ray picture with her which showed a clear broken shin bone just under the knee.
But, strangely the the foot on the X-ray film was at least double the size of hers, what is wrong …. !!!!!
I requested the police officer to take this false x-ray picture as evidence, he said that he is not supposed to take any private and personal belongings from that girl.
Seeing this, it was clear to me I would be in jail for a long time and so I was ready to face whatever comes my way.
Now the moment of "TRUTH", after about 3 hours of useless talking and ridiculous accusing me, they came out with what they want: NRP 80.000,-
There was no way from my side that I would pay this sum, and I offered them that I would pay for the damage of my rented motorbike without charging the girl, this was more than fair from my side.
After a few minutes of absolute quietness, the police boss took me out of the room and talked with me, man to man, without any witness: he explained to me that I have absolutely no chance to get out of this situation without paying the asked sum of money.
I have two choices, pay or end up in jail.
He cannot do anything for me, this is Nepali Style ……. ????
I rejected to make the payment, then I was asked how much I would pay.
I offered again that I would only pay the damage of the bike, not a cent more.
I also asked to get the tourist police involved, because it was so clear that it was a set up.
After the police officers heard the word "Tourist Police", they all became quiet and went out of the room. After a few minutes, they came back. The boss was very angry and told me that the whole case had to be transferred to the Traffic Police.
OK for me and luckily, the office was just 100 m away from the Civil Police Office.
So we ALL went over.
The same game started from scratch, only the story's from the witnesses was even more ridiculous and absolutely wrong of course.
At least I was also involved and could explain what happened.
After my explanation, it was totally clear to every Traffic Police Officer in the room who caused this accident and who was responsible to pay for the damage: the girl of course
At this moment, the mother from the girl fell on the floor, started screaming and shouting and played a nice drama, all the other witnesses joined in her drama.
Finally came in a police officer, asked what was going on here and I explained the situation to him, everyone was quiet, and listening to my explanations.
This officer got in rage and kicked out everybody from the room, police officers, witnesses, except me and the lady driver.
So finally we could talk in a normal way and I saw a small light in the tunnel.
I asked the police officer for the driving license of the girl and motorbike documents: BINGO
No driving license and NO insurance at all !!!!!
So the battle was over I thought …….
In the next moment a girl showed up in the office and explained that she was the driver, of course she had a driving license.
So there was now three girls on the bike ???
This situation was getting worse every minute.
I must mention here, the police officer was now on my side and tried everything to sort this mess out, the worst was, that the Civil Police Officers was involved in all this interpreting of totally wrong laws, cheating and lying, which was all on protocol in the meantime, and this was difficult to solve for him.
So this helpful officer has taken me out of the room and we discussed what to do.
He told me, without paying, there is no way to get out of here, they will make up even a worse scenario and put me in prison for the rest of my life.
So I offered to give them everything I had, opened my wallet and emptied out on the table in front of them.
There was only NRP 8.000,-
Everybody was looking at the money like hypnotized and after a bit of commotion among those people, they believed that this was all I had and my offer was accepted.
Luckily, I had removed 3 of my Credit Cards just before I went on this ride, for no reason at all, but this saved my skin and a total rip off.
So here we go, the brother took the money and we went into another office to write this agreement down, what a joke.
This agreement was written in a thick Police Book in Nepali, I could not understand a single word.
The friendly police officer quarantied me that everything will be fine and I should sign this document.
Can you imagine my feelings ?????
He translated it to me and I was laughing to myself.
There was a talk of a private dispute, no mention of my name or the driver's name, no money involved, no date and no location …… what a joke.
But I was still happy to get out of this dilemma and paying "only" NRP 8000,- which is about U$ 100.-
So now I had to go back to the Civil Police Station, to get my passport and motorbike keys.
Reaching the police station, I was approached from a different police officer and asked what I was doing here.
I did not talk much and waited for my passport and keys.
He pointed to my GPS receiver, which tangled from my neck, and asked what that was.
I explained friendly to him that this is a GPS receiver.
He asked to show it to him how this works, which I did.
I started the system and after zooming in into the satellite picture, which showed clearly the police station, he freaked out.
This is absolutely illegal to use in Nepal and he has to give me a big fine …
Oh no, the bullshit has no end.
He offered me, when I give my GPS receiver to him, he can help me and I do not have to pay the big fine.
Luckily, in this moment, my Traffic Police Officer "Friend" came by, for what reason ever, and kicked me out to the street, including my bike, passport and key.
Outside was waiting the whole gang of witnesses and I was expecting at least a knife in my ribs in the next seconds.
I started and sped off into the traffic.
After about 10 minutes riding like mad and risking everything I could imaging with crazy maneuvers through the mad traffic, I was sure that no one has followed me and I could relax.
What a story ….
Half hour later I was in a guesthouse, which someone recommend to me, north of Thamel, in Kathmandu, had a shower and fell asleep.
In the meantime I had lost totally my voice and breathing was very hard and difficult for me.
The pollution was to my wondering less than in the countryside, but still extreme and definitely harmful.
Next morning was the first way into a cyber-cafe to check out flights which can bring me home as soon as possible.
I was dame lucky, there was only on single seat free for the next three weeks, and this flight was the next day.
So there was one more trouble to sort out, my damaged bike has to be returned and the damage has of course to be refunded to the bike owner.
I was prepared for the next nightmare to unfold, but at least I had my ticket in my pockets which will bring me out of here tomorrow.
So early morning I started my last ride, back to the owner's place, which was about 10 km away from my guesthouse, straight through Kathmandu.
I counted almost every meter and finally I reached my destination without any problem.
Waiting now for the final cut 🙂
To my surprise, a. Gurung, from www.bikemandu.com was very calm, offered me a tea, and we sorted out everything without any hassles.
It was clear to me, that I will not get a refund for the three weeks rent I had not used up, but he offered me the bike on my next visit for free for the open three weeks, what more I could expect.
He checked the damage on the bike, which was a scratched mudguard, a scratched tachometer, a bent clutch handle, a dented tank, a broken light, a scratched light mounting ring and a bent crash bar (which saved my leg).
For all this damage he charged me NRP 6.800,- .
I could not believe that, that's about U$ 82,-
This was the best experience in Nepal and A. Gurung was the only honest Person I met over there.
If you ever go to Nepal and need a bike, this is the man ………..
After sorting this last problem out, I went back near to my guest house and did a bit of sightseeing.
All the shops are offering the same low quality stuff, every branded gear I saw was a lousy copy and not worth anything.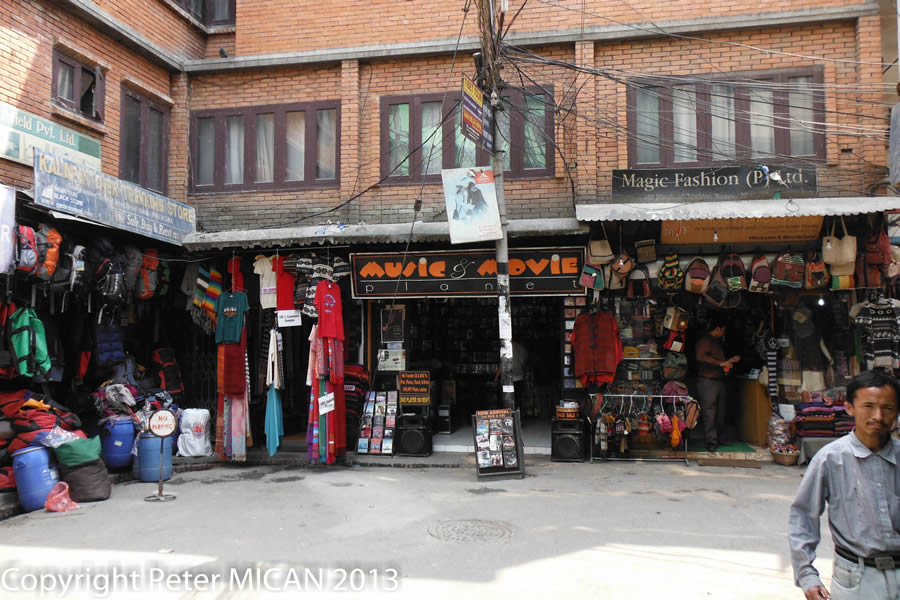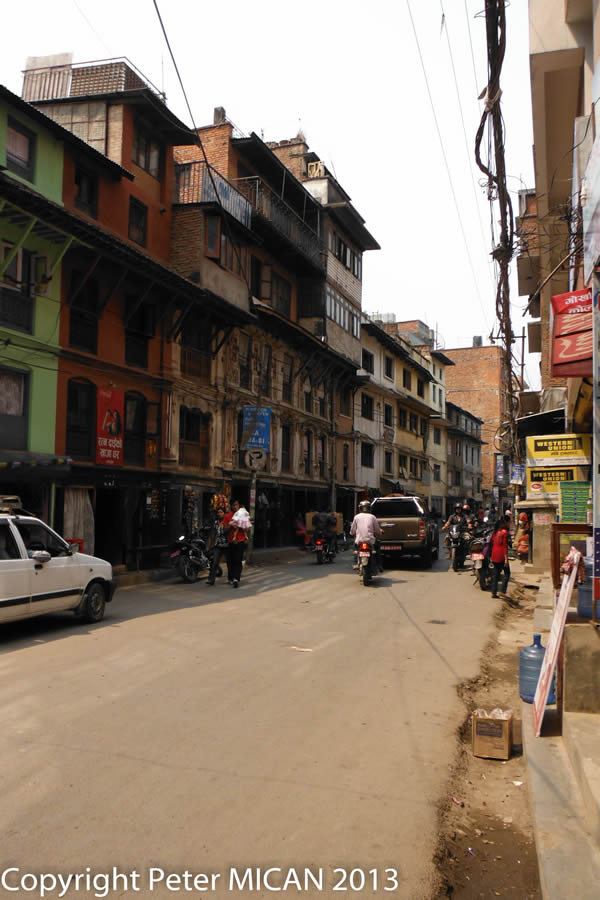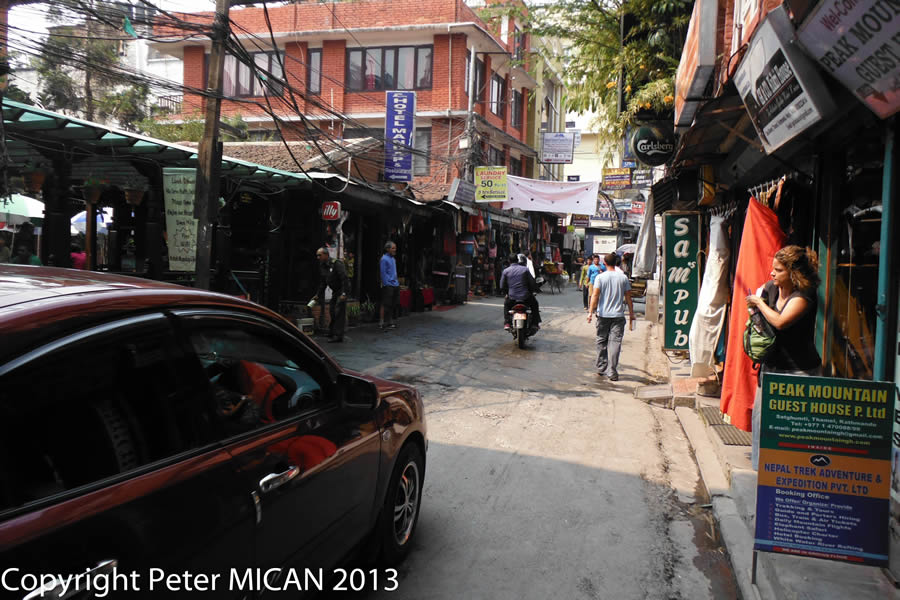 It was even hard to find some souvenirs, rubbish, nothing else is over there.
Now I am on the way to the airport and out of this nightmare, good by Nepal…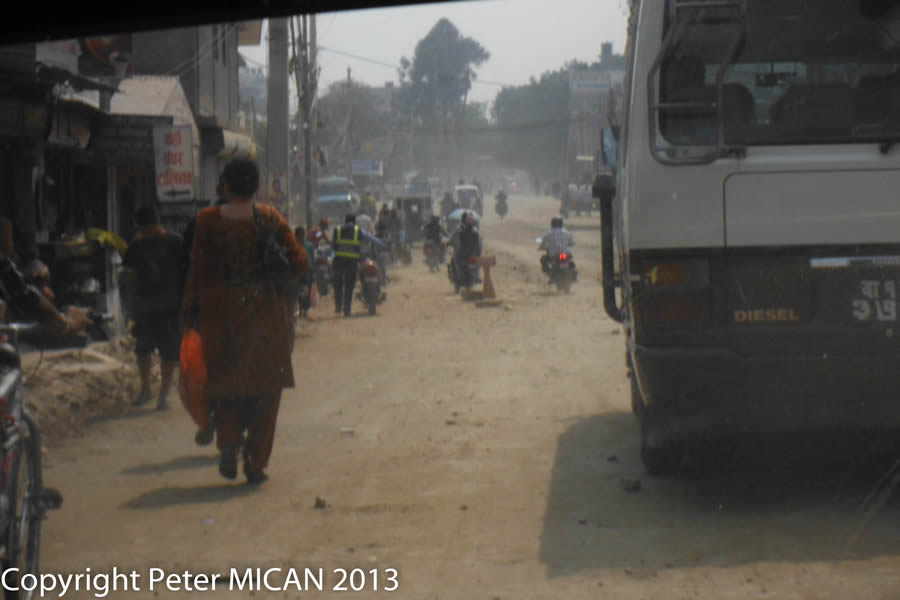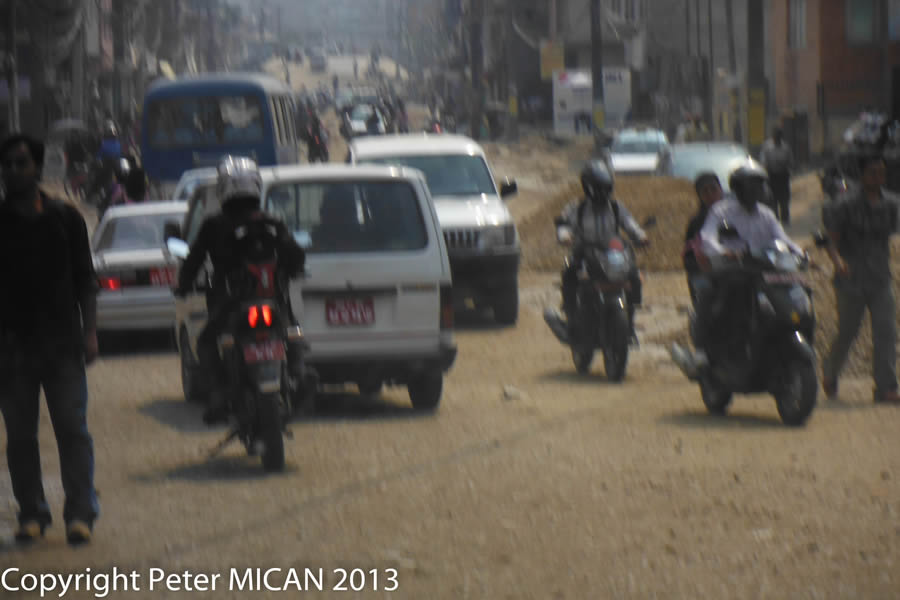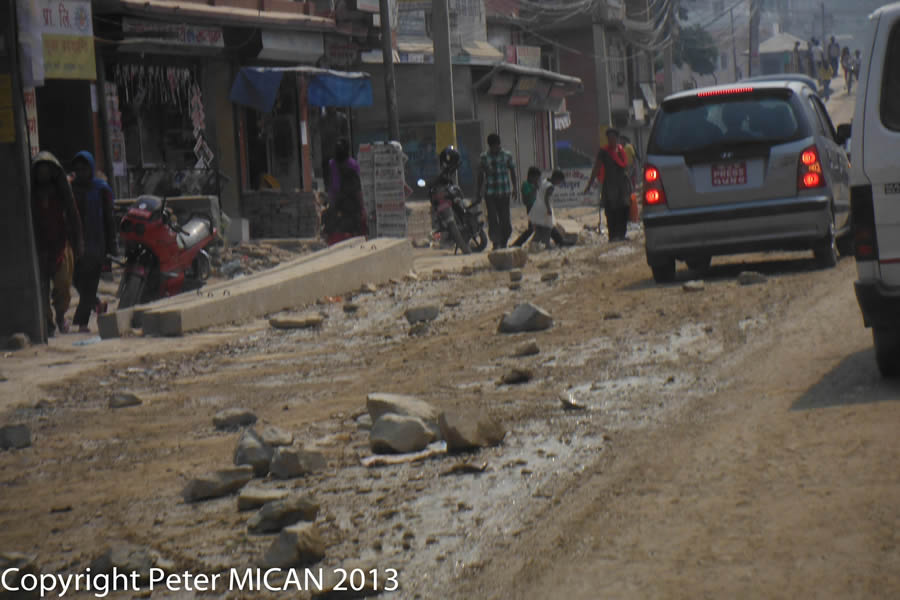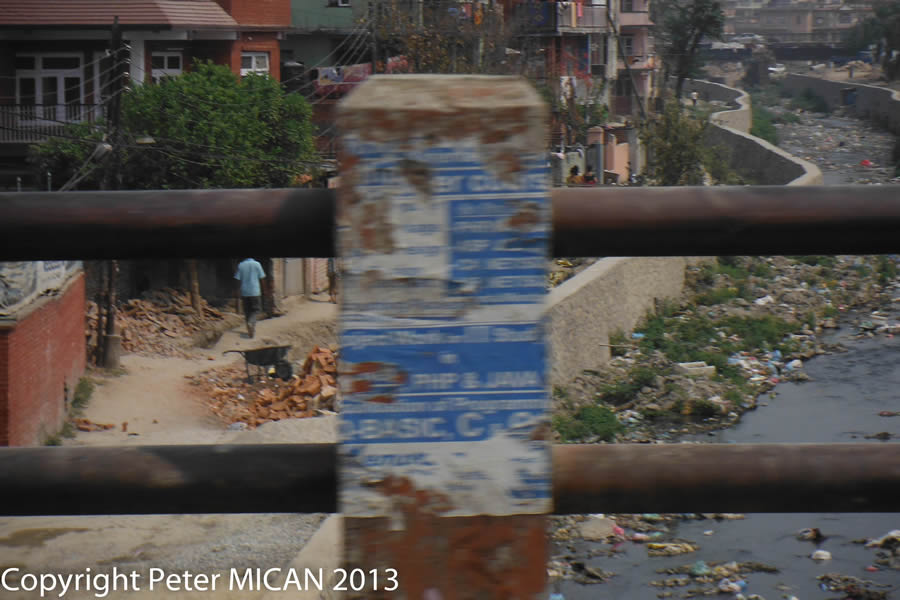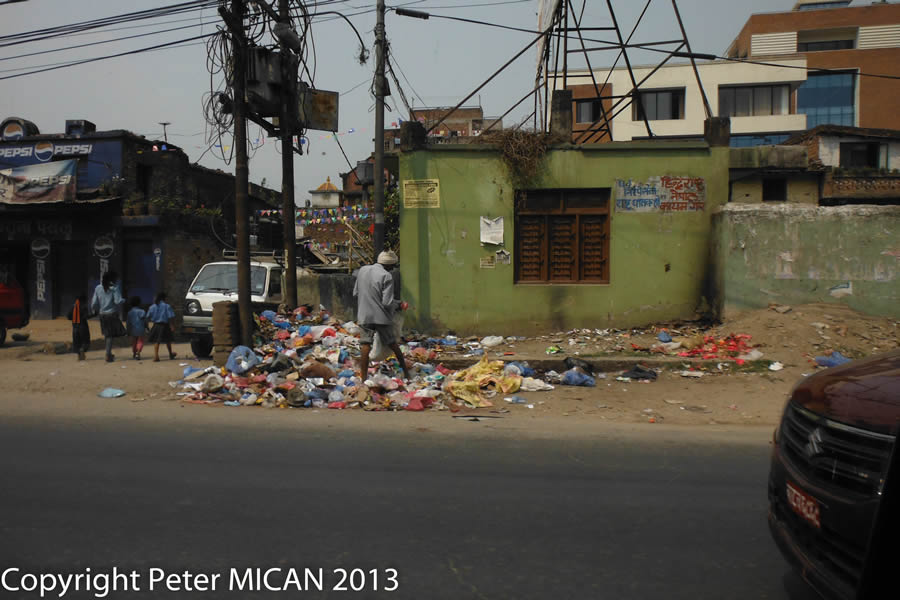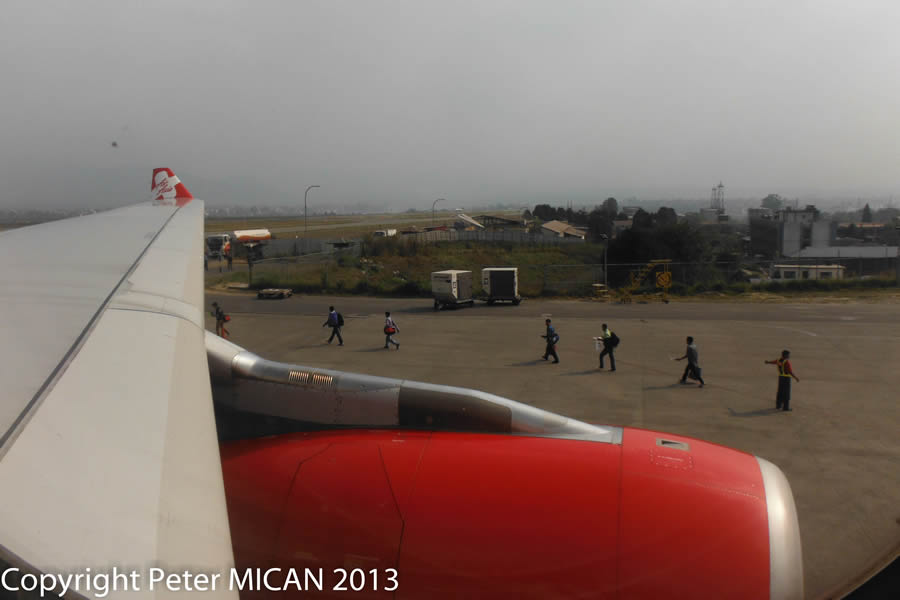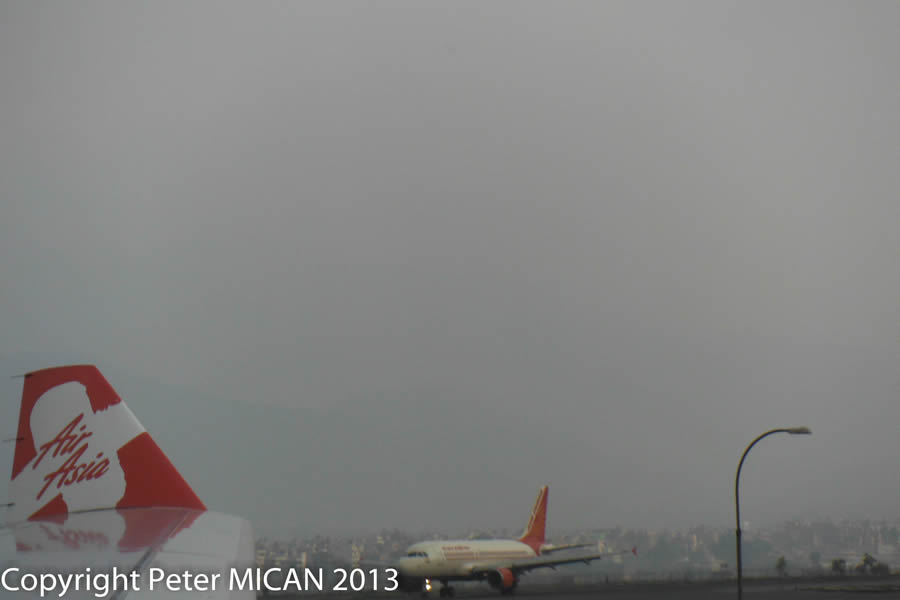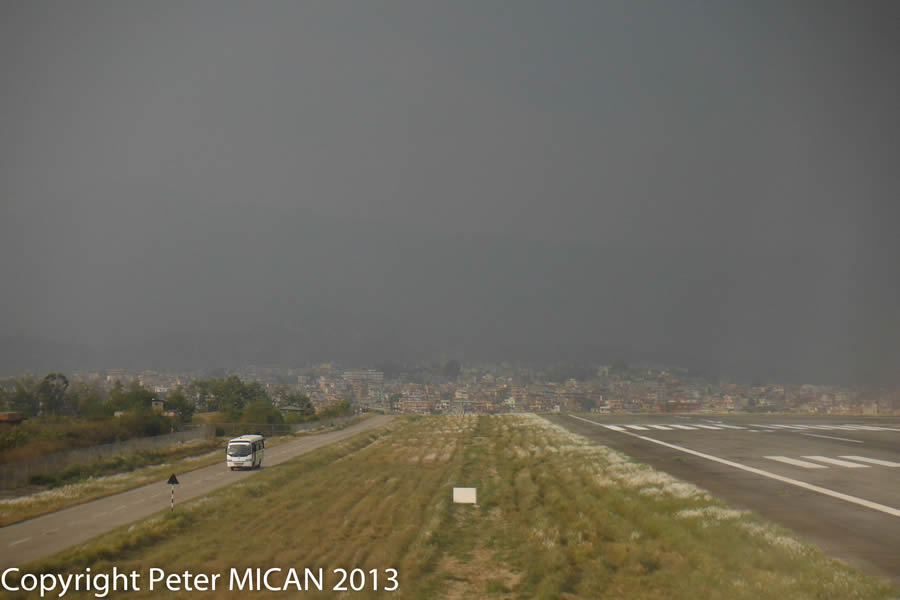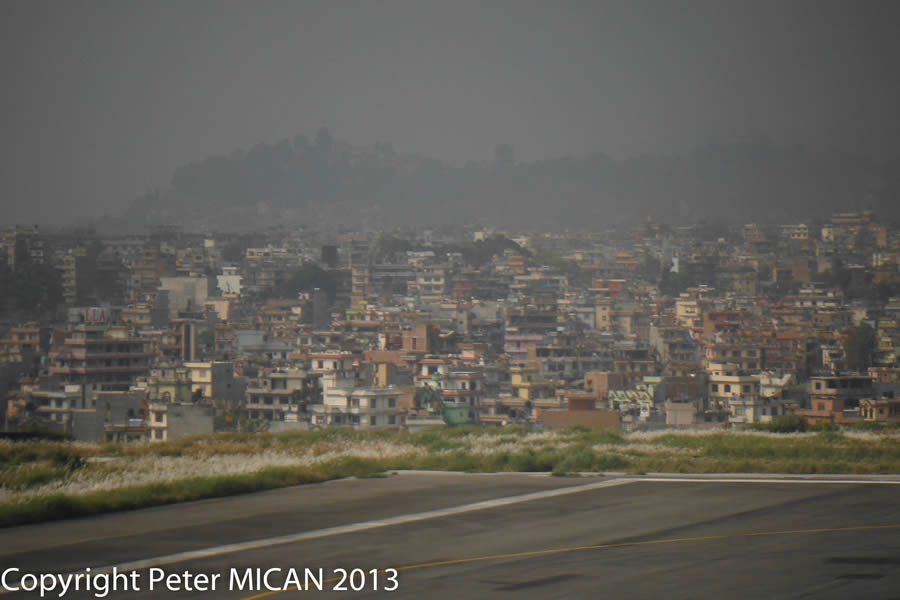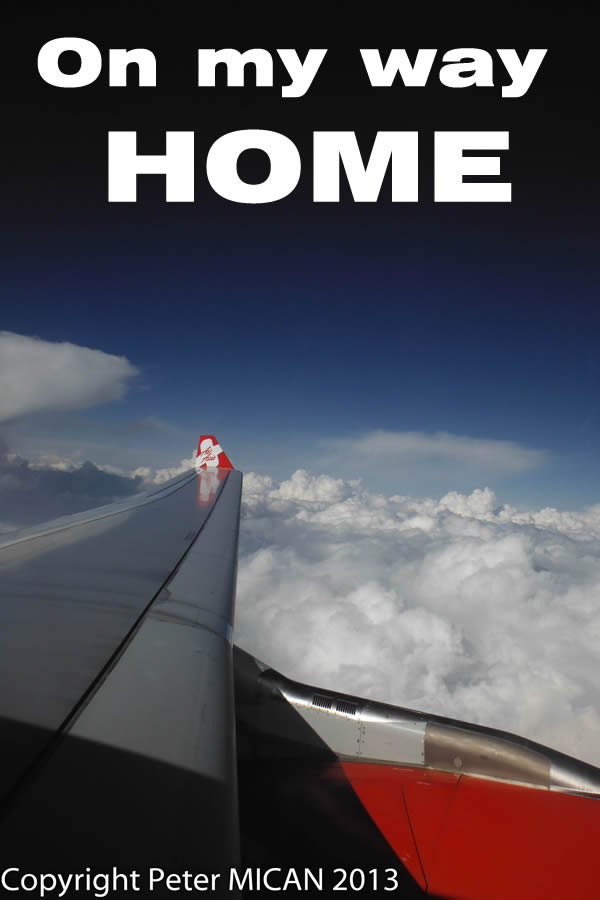 Conclusion of this trip:
Positive
Beautiful landscape
Friendly peoples, as long they are older than 50-60 years
Some guesthouses are very reasonable and nice, but you have to search for them
A. Gurung from www.bikemandu.com
Pokhara Landscape
Negative
Extreme pollution
Rubbish everywhere
Big water problem, empty rivers everywhere
Electric Power problems everywhere, most of the time OFF
Could not see the Himalayan Mountains at all
Unfriendly and cheating peoples all over (younger generation)
Total corrupt police officers
Chaotic traffic
Scrupulous drivers
Spitting and filthy, dirty peoples all over the place
Bus stations are like public toilets
Stealing on trekking routes (sleeping bags, trekking shoes get stolen regularly)
Ridiculous prices for tourists
You cannot trust anybody
Brutal torturing of animals
Again I like to mention that it is absolute not my intention to put this country down, this was my experiences through 4 weeks in this country and everything is written here is an absolute truth.
I could write here many more episodes, they were almost endless, the negative would fill at a least a thick book and the positive ones I can count on one hand.
Overall, I am happy that I am out of there and can recover my health now in the warm air of Sabah's clean air 🙂
The experience was needed to save me from a much bigger disaster, which would happened for sure when I had started my trekking on the "Great Himalaya Trek" which I have cancelled now for good.
Maybe one day I come back to make the "Mt. Everest Basecamp Trek", but when I think that 10.000 Trekkers are on this Trek every month in October and November, I doubt that this is an enjoyable experience.
I was told that the pollution after the raining season is not so bad and the air is clean, which I do not believe at all, why it should be less after raining ????
Thank you for reading so far and I hope my experiences in Nepal could open your eyes a bit and help you not getting in troubles over there and that you do not expect too much.
Most important lesson: Don't trust anybody over there !!!
It is very sad, Nepal was a lifetime dream of mine, I expected pristine nature, beautiful mountains, crystal clear rivers, friendly peoples, wisdom, ancient hidden knowledge's, spirituality and wise old peoples ….. all this does not exist at all and was just an illusion …………………..
When peoples like those police officers and those clever and smart cheating businessperson's rule this country, it is doomed and if this situation is not changed immediately, the outcome will be sad, that's for sure ….