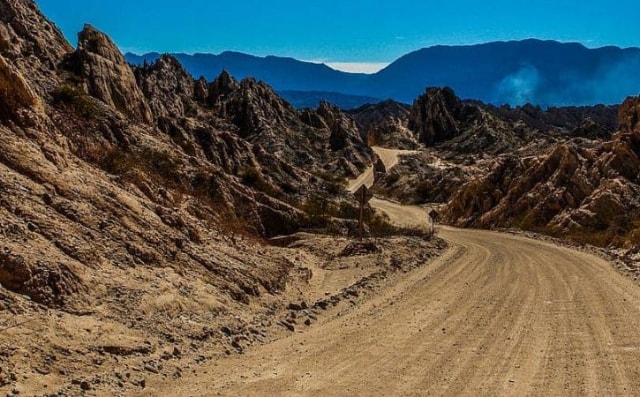 Finally, the time has come for the trip of my life, an amazing adveture along the entire and world famous "Ruta 40" in Argentina, from La Quiaca ( Jujuy, Argentina) to Ushuaia(Tierra del Fuego).
I will start at my home in Uruguay, travel to the world famous Iguazu Waterfalls and then heading north to La Quiaca (Jujuy, Argentina) where the "Ruta 40" starts.
The way back from Tierra del Fuego will go via Chile, cruising the spectacular Carretera Austral (or Southern Highway) which is known as one of the most picturesque road and most beautiful landscapes in the world.
Heading north to Valparaiso in Chile and then eastwards back to Argentina, crossing the Andes over the picturesque Paso Cristo Redentor passing close by to South American highest mountain, the Aconcagua, Elevation: 6962 m / 22841 ft
Continues to Mendoza in Argentina and heading to the picturesque mountain range called the " Sierras de Córdoba"
After roaming this mountain range, I will head home to my "El Paraiso" in Uruguay 🙂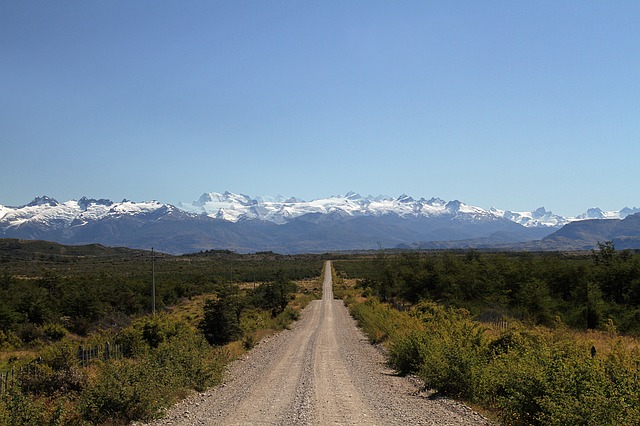 The total distance of this trip is equal to a trip from Singapore to Los Angeles (USA, California … including the water areas !!!) … just amazing, that's halfway around the globe in a car !!!
Just awesome, cannot wait to start…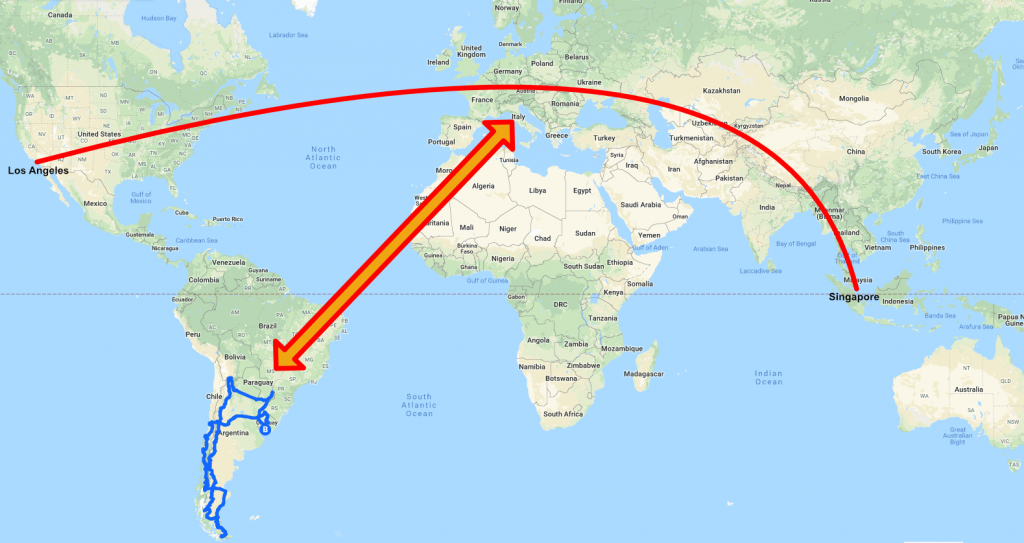 The entire trip will be about 18.000 km (11.200 mi) which will be quite a challenge on crew and material, as long stretches will go over the much-feared "Ripio", the unpaved roads on the Ruta 40 in Argentine, especially in the northern stretch, which are very dangerous and hazardous.
Countless vehicles have torn multiple tires, punctured their radiators, broken their windshields, punctured their fuel tanks, flipped over ect.
I guess that it will not bore me much on this trip 🙂
Here is an overview of the main directions, which will have many side trips to spectacular sceneries …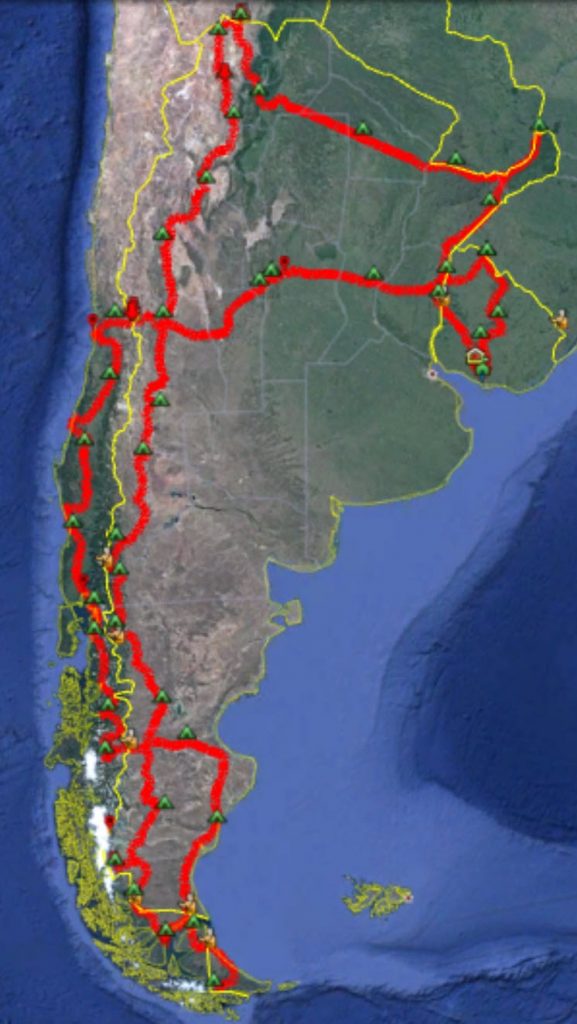 RN40 is the longest route in Argentina and one of the longest in the world, measuring 5194 km ( 3,227 mi )
With a length of 5.194 km (3,227 miles) it is Argentina's longest highway, and one of the longest in the world.
The highest point along Route 40: Acay Pass, Salta: 16.132 ft = 4.952 m
South America's Ultimate Road Trip
It crosses 236 bridges and runs by 18 National Parks.
Its southernmost point is its "mile zero", at the historic Cabo Virgenes lighthouse in Patagonia, it is also its lowest point: barely 100 ft. above sea level.
Its northernmost point is at the town of La Quiaca in Jujuy at 3.460 m or 11,352 ft.
The famous Ruta de los Siete Lagos and the Perito Moreno Galacier are on its course.
It crosses 11 provinces and 3 provincial capitals.
It is the access to Ruta de los Seismiles with the highest volcanos in the world.
It crosses three of Argentina's regions: North, Cuyo and Patagonia.
Mina Pirquitas in Jujuy, on Route 40 is the highest town in Argentina: 4.271 m or 14,012 ft.
Vehicle:

For this trip, I will need a vehicle which can withstand everything these torturous roads will throw at it and this is quite a challenge.
Most modern cars are NOT qualified for that trip, except some of insane expensive 4×4 off-road vehicles, and even they are relying on electronics, which can be fatal on a tour like that, as over long stretches are absolutely no services available, hundreds or even thousands of kilometers are no service stations which could fix an electronic breakdown.
So from the beginning, I had a small truck in my head, but as it comes out, even these modern trucks are relying on electronics too and I was back to square one.
I have seen countless vehicles of this type stranded after a simple thunderstorm or after a massive rainfall, therefore those kinds of crap is out of my mind and I have to find a better solution.
After intensive research I concluded to buy an old and well-proven vehicle which I will configure for my trip.
Criteria:
absolute reliable diesel engine
extreme strong framing
good loading capacity
relatively comfortable
big tires, minimum 16"
availability of spare parts
easy to service even in most remote areas
strong and save chassis
affordable
After setting these criteria, the search began and shows that this will not be an easy task. Most available modern cars here in South America are not usable at all, the availability of spare parts is almost none existent and service stations only existent in the capital cities of Argentina, Chile, and Uruguay.
After talking too many experienced farmers here in Uruguay they pointed me to an extremely reliable and much-used car in these areas, the CHEVROLET C10 PICK-UP Truck from 1990ies.
PERKINS Q20-4236 Engine (one of the best engines ever built….), NO Electronics at all, sturdy frame and axles, bulletproof chassis, big 16" tires, everything manual and simple the old way, almost everything fixable by myself on the road, that´s how I like it 🙂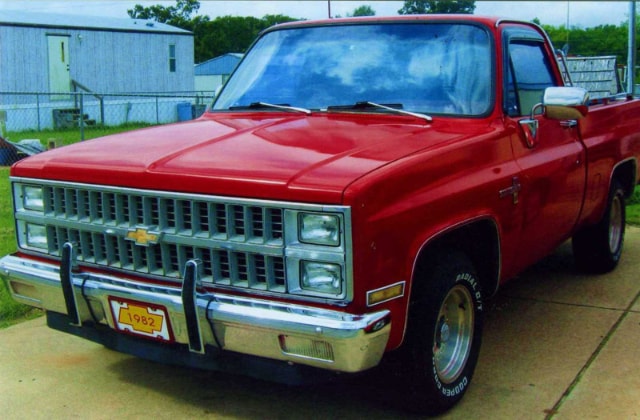 Argentina and Brasil facilities have built over 100.000 of these trucks locally and they are still roaming the roads after 30 years of hardest use. Spare parts available in almost every grocery store here in South America and this is exactly what I need. Every blacksmith and mechanic in the smallest village can fix this car, BINGO, I have found my vehicle.
This truck has a loading area of 2 .0 m x 2.0 m, which is just enough for a minimalist camping setup and exactly what I want.
I will keep my car as a Stealth Camper, as I will entirely camp out in nature and wild places.
Also, it should not attract long fingers and uninvited guests at my wild campsites 🙂
Here some ideas of my setup: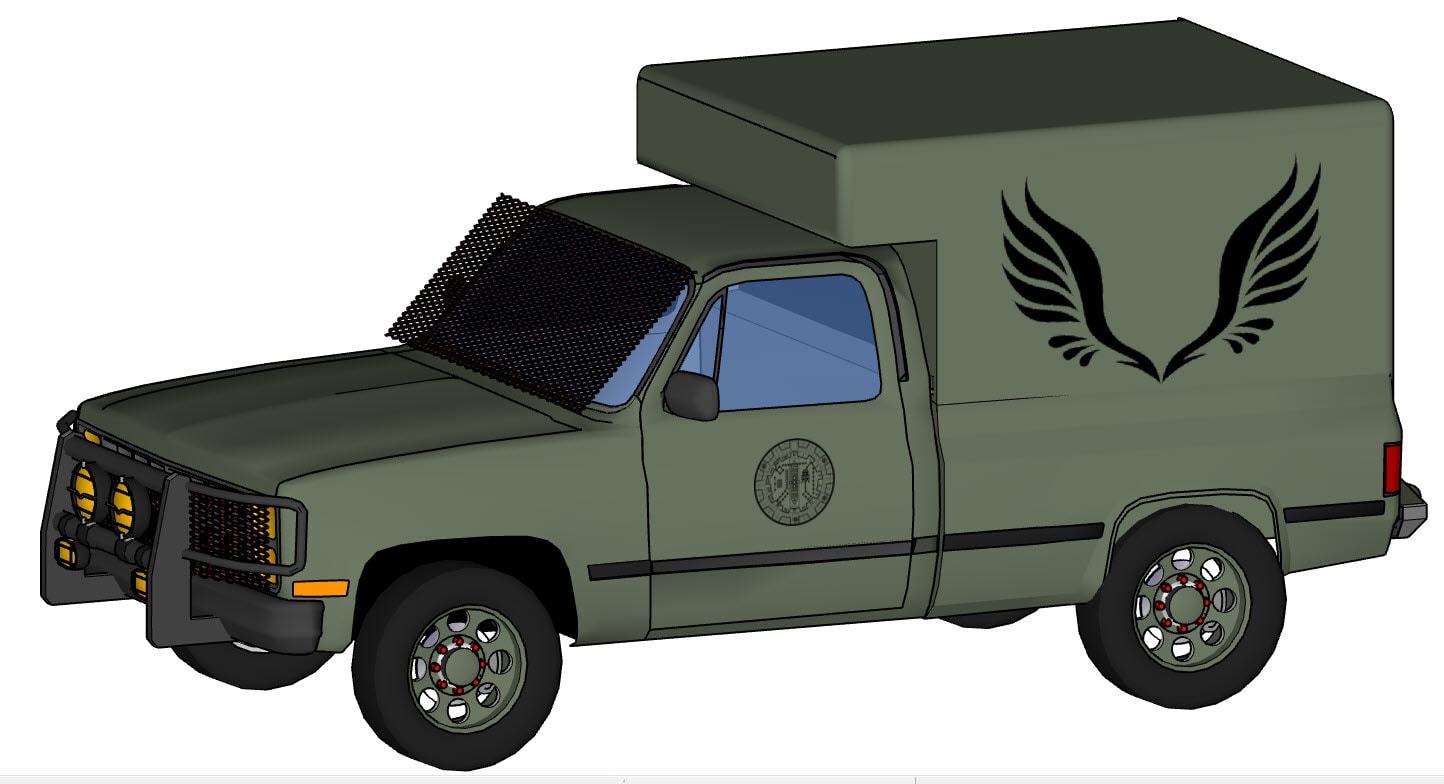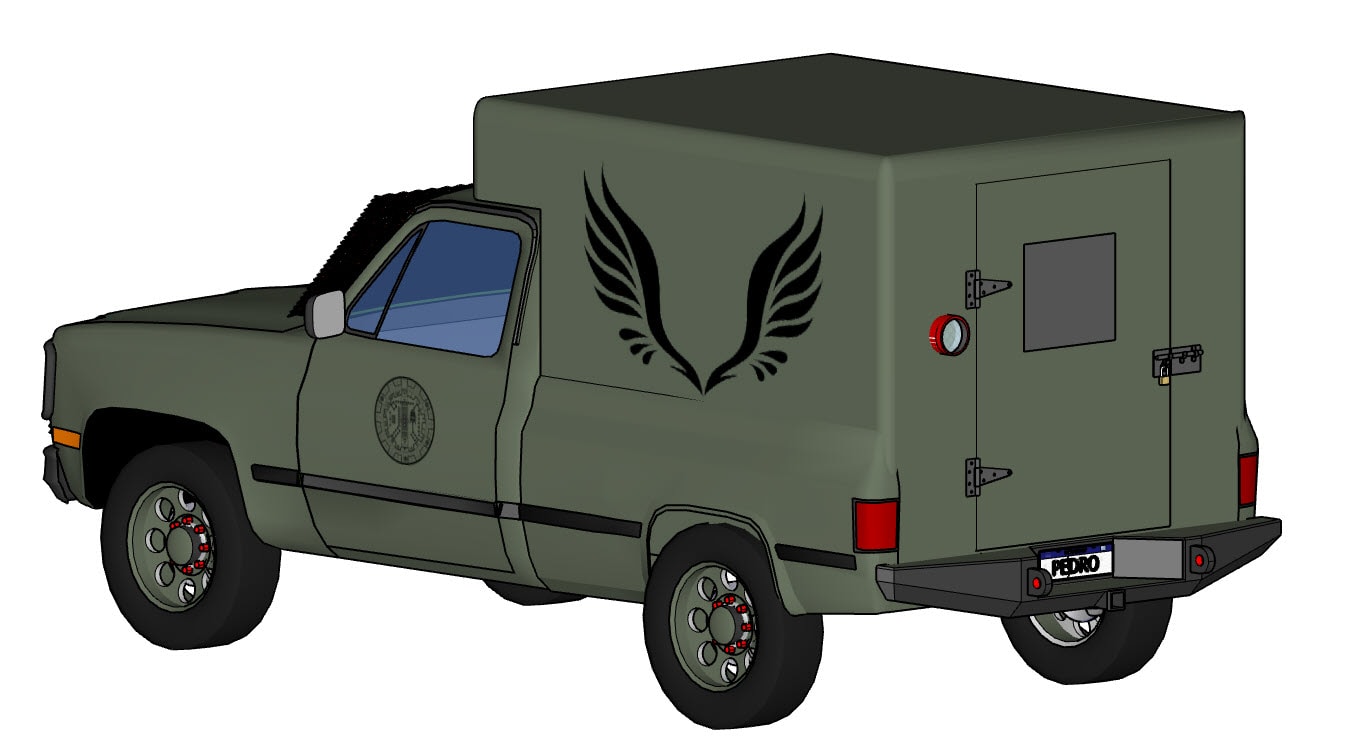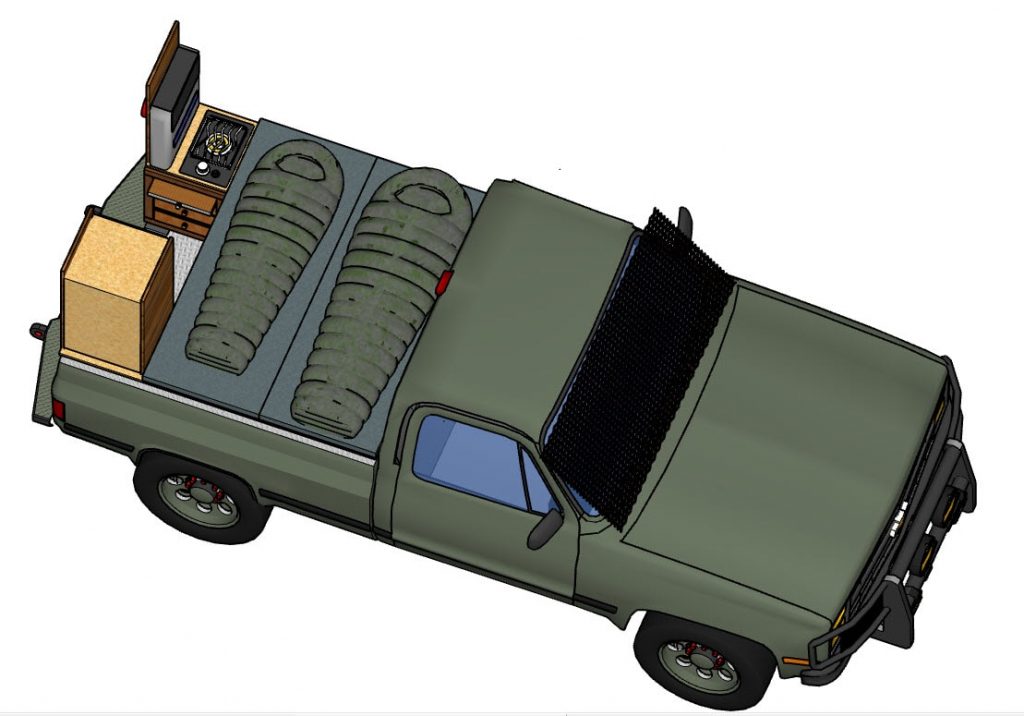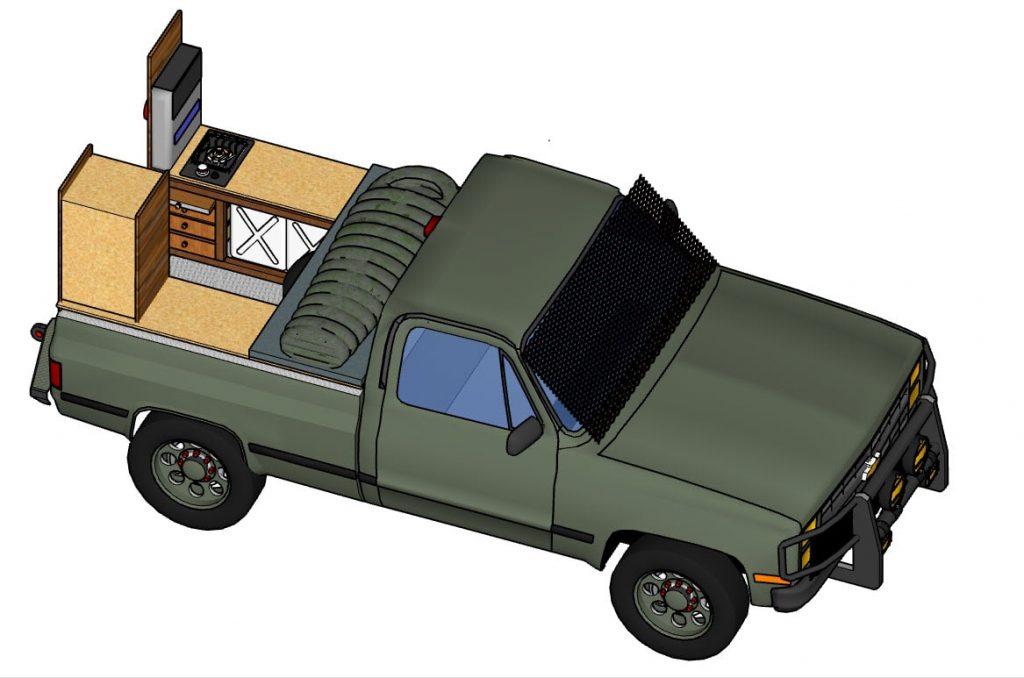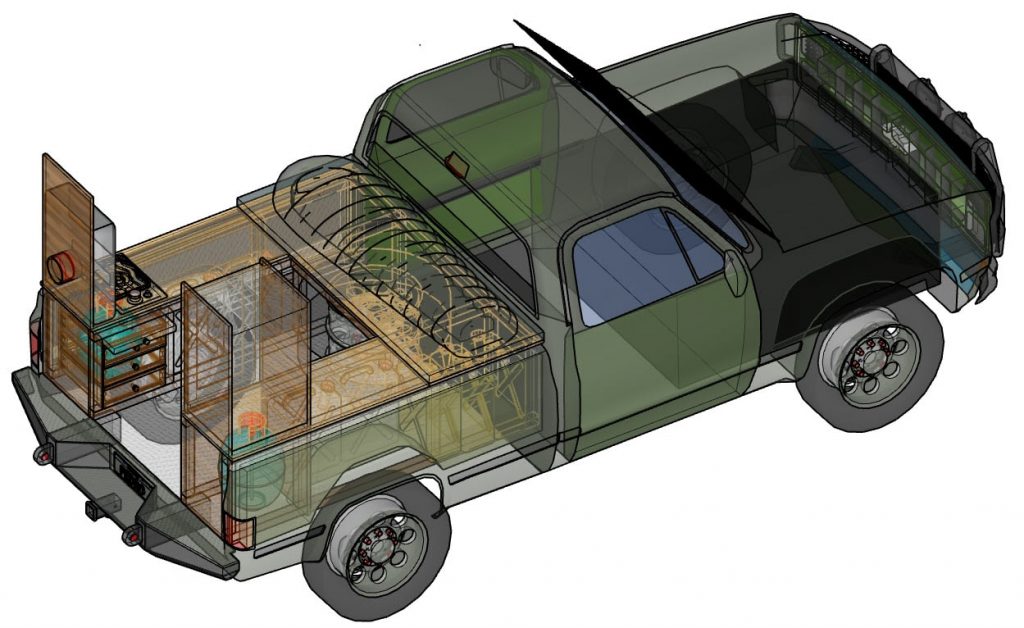 I just found my base vehicle and still crumbling about the costs of this old vehicle. But it has a total overhauled PERKINS 4.236 Diesel Engine (like NEW), spotless frame and a complete intact structure, therefore this vehicle will last out most new vehicles easily and will serve me another 30 years 🙂
All it needs is a paint job, changing all the liquids and a set off-road tires.
The ready to go vehicle will cost me about U$ 10,000.- and the whole trip for the two months will add about U$ 3,000.- for food, fees, most of it will be fuel.
Tomorrow I will collect my "30 years Old-Girl", so let's go to work and fit this baby out …
Now I am a very happy camper as I am soooo close to my goal 🙂